How to Love Your Elf (Embraced by Magic)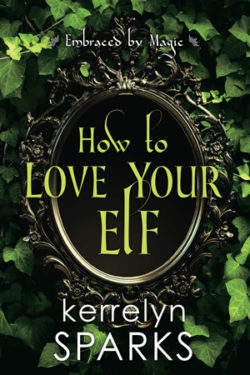 Author

Kerrelyn Sparks

Release Date

February 25, 2020

Publisher

Kensington

ISBN/ASIN

B07S6K8XV9

Our Rating

Reviewed by

SJ
Our Review
Though HOW TO LOVE YOUR ELF is a continuation of Kerrelyn Sparks' Embraced by Magic series, it clearly reads as a stand-alone fantasy romance. Full of romance, wit, and adventure, this lighthearted romance is enough fun that it had me laughing out loud and reading from page one to the end in one sitting.
Princess Sorcha of Norveshka feels much less than her sisters, the five girls raised together on the Isle of the Moon–girls destined to become women of greatness. She's got a little power, the ability to create fire, but it's small and not nearly as grand as her sisters' talents. But she'll do whatever she can to help. Except in doing so, she leaves the safety of her brother's kingdom and finds herself captured by the enemy, those blasted elves.
Rescued by a mysterious man named the Woodsman, a thief with a bounty on his head, Sorcha learns that all is not as it seems. Thrust in the middle of a civil war and learning to trust a people she'd long held as evil, Sorcha finds that sometimes what's in the heart is more important than what seems to be a truth. 
The humor in this story made it so much fun. The unfortunate honor of the Woodsman who's infuriated by Sorcha one minute and dying to kiss her in the next, and Sorcha's ability to get into mischief while doing her best not to be attracted to the handsome thief. The characters work so well together, and mention of Sorcha's "sisters" makes me want to go pick up the rest of their stories.
For fun, romance, and a rollicking good time filled with magic—and elves!!!—pick up Kerrelyn Sparks HOW TO LOVE YOUR ELF. It's a must-read!
Recommended Read