How to Train Your Highlander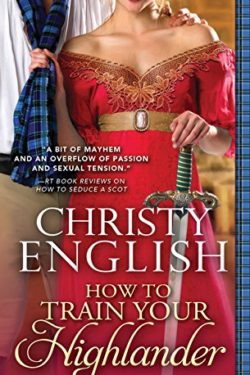 Author

Christy English

Release Date

December 6, 2016

Publisher

Sourcebooks Casablanca

ISBN/ASIN

1492612936

Our Rating

Reviewed by

Dottie
Our Review
Harold "Harry" Charles Percy, the Duke of Northumberland, AKA the Recluse Duke, has held this tile for the past five years. But now determined to find him a bride, his mother is holding a house party. With three days to go before the party commences, Harry feels free to indulge his freedom by working in his rose garden and in the stables. This is how he comes to be mistaken as a footman when his Scottish guest Mary Elizabeth makes an early arrival. The beautiful, feisty blonde girl nearly takes his breath away, but liking the way she talks to him unguardedly, Harry is in no hurry for her to discover his true identity. Normally, Harry avoids all women of good birth, but this one intrigues him.
Those attending the English house party are aghast as the wild Scottish debutante kicks up her heels in a Scottish reel, with the duke no less. Able to outride many men and handle a sword with proficiency, Mary terrifies some of the men. To her brothers' horror, Mary is attracted to the handsome groom and has even shared a kiss or two with him. She has no desire to get married, although this is the reason her mother sent her to England. All Mary wants is to return to her home in Scotland. But as she spends time with Harry, she begins to lose her heart to him.
Although Harry cannot get Mary off his mind, he knows that he is expected to marry one of the English ladies, not the Scottish spitfire who has stolen a bit of his heart. But she is the only one he wants. When she discovers that he is actually the duke, will it change the way she feels about him? Will the truth lead to their happiness together, or to heartache?
A clever tale, HOW TO TRAIN YOUR HIGHLANDER, the third book in author Christy English's BALLROOMS AND BROADSWORDS series, is a witty, passionate historical romance that is sure to captivate readers. The chemistry between Harry and Mary is undeniable and the subterfuge is hilarious as the horrified staff is aghast at the way that she speaks to the duke, believing he is just a stable boy. But Harry silences them with just a look and even convinces his mama to go along with it. While traveling to the house party, Mary assumes that her mother wants her to wed the duke, so she is determined that it is not going to happen. She is already homesick and just wants to return home. When she sees a portly dour man at the window she believes he is the duke and steers clear of him, not once considering that Harry is the duke.
Although Mary's family is beginning to catch on to Harry's real identity, they are also keeping their silence on the matter, at least for a short time. Harry is just so tired of the women swarming over him because of his title and he is enjoying Mary's friendship, so he will do what he can to keep her from learning the truth if he can. But as the friendship begins to turn into so much more, and with Mary's mother on her way to the house party, how long can his true identity remain a secret?
This delightful story can be read as a standalone, although it is part of a series. But after being entertained by this deliciously witty tale, I am sure that readers will seek the first two in this collection, HOW TO SEDUCE A SCOT and HOW TO WED A WARRIOR. Brimming with passion, humor, clever banter, a feisty, highland lass and a hunky duke, romance and a once-in-a-lifetime love, this story is an absolute keeper. From the very first time I read a Christy English novel, I have been a fan of her work. Why not pick up a copy of HOW TO TRAIN YOUR HIGHLANDER today and discover her fascinating stories for yourself!