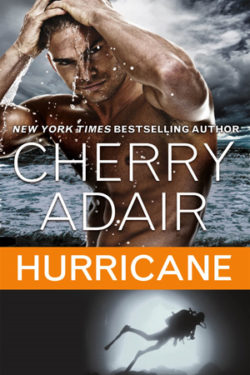 Author

Cherry Adair

Release Date

April 4, 2017

Publisher

St. Martin's Paperbacks

ISBN/ASIN

1250016363

Our Rating

Reviewed by

B Poston
Our Review
In Cherry Adair's HURRICANE, Rydell Case has had a horrible year. He owns an undersea salvage business, which he is on the verge of losing. His wife, the love of his life, divorced him. His salvage ship was stolen by pirates and blown up. The custom ship he had built was awarded to his wife in the divorce, and he has only a few weeks to recover the treasure he believes he has discovered or risk losing what little he has left.
Addison D'Marco lives aboard the Tesoro Mio, the ship she and her ex-husband, Rydell, designed. The ship is too big for her to live alone on, and its upkeep is too much, but she is so angry and hurt by Rydell's past actions that taking this ship from him seems justified. He was not there when she suffered the most painful moment of her life, and she has not seen him since. She hopes to sell the ship and begin life anew.
Uh oh… Things don't work out like Addison thinks they will. After an evening out, she boards her ship only to discover Rydell on board. Not only that, but he has taken control of the ship, and they are headed out to sea. He needs to salvage a wreck he believes he's found that holds treasure, and since his name is still listed as co-owner, he is asserting his rights in taking the ship. Technically, he really hasn't kidnapped Addison.
HURRICANE is the story of two people who have deeply loved each other, experienced a horrible loss, and were betrayed by those they trusted. However, it is also the story of the same two people who fight for what is right, and who ultimately realize that together, they can take on any force and win.  
HURRICANE is filled with action, adventure, hot loving, and a plot twist you don't see coming until it hits. Cherry Adair always writes exciting books, but I could not put this one down until I reached the end.  A fun-filled read.
A RECOMMENDED READ!