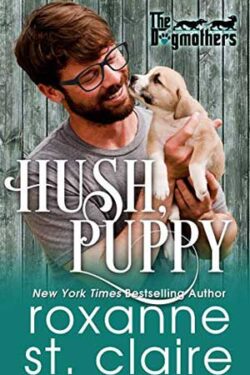 Author

Roxanne St. Claire

Release Date

June 12, 2020

Publisher

South Street Publishing

ISBN/ASIN

B0886K9K2Q

Our Rating

Reviewed by

Raonaid
Our Review
John "Yianni" Santorini runs his family's Greek deli. He plans to franchise his restaurant. But first, John needs to impress a certain investor. The only hiccup in his plans is the lack of a hostess and a problematic landlord. Summer Jackson seems to be the answer to John's needs. It also helps him that her five-year-old daughter has a strong attachment to his puppy Maverick. Will John give Maverick up to Summer's daughter? And can he convince his potential investor to finance his restaurant?
Summer Jackson is a third-grade teacher. She and her daughter visit Bitter Bark, North Carolina, for the summer. Summer has another agenda for her visit: to find her late husband's army friend and apologize to him. Instead, she runs into John and Maverick. John may know where Summer can start her search. She agrees to help him as his restaurant's hostess for the season. Will Summer find the person she is looking for? Or will she realize that John is the better man?
John is such a sweetheart! He is the type of man who prefers logic over emotions. That does not mean he is unfeeling or cold, quite the contrary actually. I adore how noble and considerate John is towards Summer. When she needed space and time, he never balked or complained but respected her request. What I love the most about John is his interaction with Destiny, Summer's daughter. He had no ulterior motives in helping the girl with her speech impediment or other things. John genuinely wanted Destiny to achieve her dreams.
Summer is the perfect fit for John. I understand her troubles with guilt. I am the same way. Guilt likes to plague my thoughts too. I adore how Summer refuses to enable her daughter because of her handicap. She tries to teach Destiny important life lessons without giving into her demands, even though it is sometimes hard to do. What I like most about Summer is how she handles the Dogmother's matchmaking. She does not let either Grammie Finnie or Yiayia intimidate her, especially the latter. She handles their meddling with aplomb.
HUSH, PUPPY is book five in Roxanne St. Claire's charming contemporary series, THE DOGMOTHERS. The story can easily stand alone. However, I highly commend reading the prior books and novellas to grasp the Santorini-Mahoney-Kilcannon family dynamics. I love how the characters from the previous books and the spin off series show up intermittently throughout the story.
HUSH, PUPPY is a cute yet super sweet tale of fate helping two people find what they truly need. This series never fails in making me smile or feel lighter inside. I cannot wait to see which Santorini or Mahoney is next for the octogenarian matchmakers!