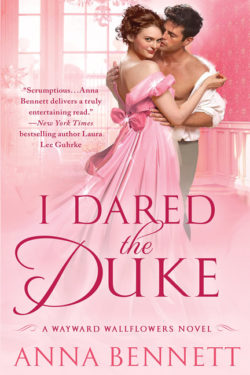 Author

Anna Bennett

Release Date

April 4, 2017

Publisher

St. Martin's Paperbacks

ISBN/ASIN

978-1250-10092-4

Our Rating

Reviewed by

Diana Mcc
Our Review
This is the second book in the THE WAYWARD WALLFLOWER series. I enjoyed it as a standalone book, as I hadn't read the first one.
I DARED THE DUKE is the story of Miss Elizabeth Lacey (Beth) who's personality is, she likes to be needed. After her sister is married, Beth is no longer needed at home, so she becomes the companion to the Dowager Duchess of Blackshire.
As the companion to the Dowager Duchess she meets her grandson, the Duke of Blackshire, Alexander Savage (Alex). He has a reputation as a rogue. As a child he lost both parents to a house fire and he was severely burned.
His grandmother nursed him back to health and raised him. He loves the Dowager Duchess, but when attacks on his life threaten the security of their home, he would like nothing better than to send her and her companion to the country.
Beth stands up for the Duchess to stay in London, and 'blackmails' the Duke into granting three wishes for the Duchess, and only then will Beth convince her to move to the country.
They say love is never easy, and that's how it is between the Duke and Beth.
The characters are well drawn. There is a great mystery with the assassination attempts on Alex.
Beth resists him for a part of the book. But once they realize they are meant to be, there is no stopping their love and the book heats up.
Read I DARED THE DUKE for stolen kisses, caresses and snappy dialogue, take the journey with Beth and Alex and you won't be disappointed.
I definitely want to read the other books in this series, "THE WAYWARD WALLFLOWERS".
I requested and received a copy of this story from ROMANCE JUNKIES REVIEWS, in exchange for my honest review.is