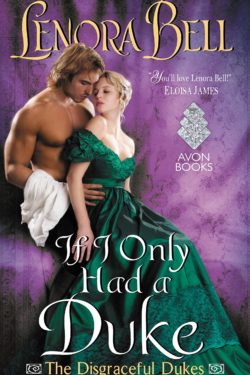 Author

Lenora Bell

Release Date

August 30, 2016

Publisher

Avon

ISBN/ASIN

0062397745

Our Rating

Reviewed by

Dottie
Our Review
After two failed seasons and being jilted, Lady Dorothea Beaumont has had enough of society. The scandal of being jilted forced her to Ireland to stay with her aunt. Now all she wants is to return to Ireland and live out her life helping her aunt tend her beehives. But she has been summoned to London to take on her third and last season. All she needs to do is get through this season and she will be free to do what she wants…live in bliss on her aunt's Irish estate. While there, she discovers a fount of art next door at a duke's estate and has been trying to get permission to take a tour of it by writing to him in London. So far, she has had no success. However, now that she is returning to London, perhaps she will be able to talk him into it. But her plans go awry when this same duke makes her the most popular belle of the season by singling her out for a dance. Now that he has destroyed her dreams, Dorothea is going to make sure he fixes what he has ruined.
Dalton, the Duke of Osborne, uses his reputation of womanizing to detract society from his real purpose of finding the man who destroyed his family and making sure he pays. Dalton lost his younger brother years ago. This loss has made his mother a recluse. Just as his search leads him to Ireland, he has an unexpected visitor, Dorothea. She arrives on his doorstep, determined to get him to escort her to her aunt. With little choice but to do as she asks, Dalton and Dorothea venture to Ireland. Along the way, there are plenty of dangers, but while being so close to her as they travel, Dalton is discovering that the biggest hazard could be the one to his heart.
An unforgettable tale, IF I ONLY HAD A DUKE, the second book in award winning author Lenora Bell's THE DISGRACEFUL DUKES series, is a witty, sexy historical romance. Dorothea usually gives in to her controlling mama, but she has made up her mind to make her own future. The last thing she wants is a husband to command her the way that her mother has. Whereas, Dalton figured that Dorothea's interest in his paintings is actually an interest in marrying him and he is not ready to wed anyone. But things heat up as they venture to Ireland and he finds his priorities changing somewhat. I really enjoyed this novel and was glad to see Dorothea stand up for what she wants. Her interaction with the duke is humorous at times as she tries to convince him that her interest lies in his paintings, not in him. Their antics will have you laughing out loud.
A talented storyteller, Lenora Bell pens a story that is sure to be a favorite of fans of Regency romance. Even though this book can be read as a standalone, I recommend also treating yourself to the first book of the series, HOW THE DUKE WAS WON. Wickedly sexy and packed with humor, heat and romance, IF I ONLY HAD A DUKE is not to be missed!