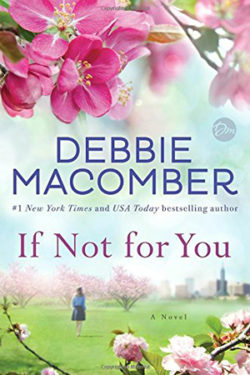 Author

Debbie Macomber

Release Date

March 21, 2017

Publisher

Ballantine

ISBN/ASIN

9780553391961

Our Rating

Reviewed by

Diana S
Our Review
Beth Prudhomme moves from Chicago to Portland to get out from underneath her mother's thumb. Her favorite aunt, Sunshine, lives in Portland and helps Beth find a life of her own. Beth obtains a job as a music teacher and makes a new friend, Nichole. She loves her job and the kids she teaches.
Nichole wants Beth to come to dinner and meet a friend of her husband. Sam is a mechanic and has multiple tattoos, which Beth knows her mother wouldn't approve of. Beth goes to dinner but is not expecting too much from it. The dinner is a failure as Sam and Beth have nothing in common and are uncomfortable with each other.
After escaping the dinner early, Beth and Sam end up side by side at a stop light. When the light turns green, Beth pulls out into the intersection and is struck broadside by a woman running a red light. Sam jumps out of his car and runs to Beth's aide. Her car is too mangled to get her out so Sam holds Beth's hand, waiting for help to arrive. When she is in the ambulance and headed to the hospital, Sam follows, knowing she has no family to contact. Sam needs to know if she is OK when she comes out of surgery.
Something happened between Sam and Beth in that one instance after the wreck, because Sam feels he must be there for her every day to make sure she is healing OK. Sam had bad luck with a relationship and doesn't want another one. Beth is just finding her independence so she is not looking for a relationship either. Friends are all they can be to each other at this time. Will the two of them find that friendship can lead to love?
Debbie Macomber has written another great novel letting the reader into the character's mind. All the doubts and insecurities two people in a new friendship can have when they find their feelings are changing, makes for a remarkable story for all to enjoy. Being a reader of her works for decades, it amazes me how Debbie Macomber's stories are getting better and better as we get older.
A RECOMMENDED READ!