Immortal Nights: An Argeneau Novel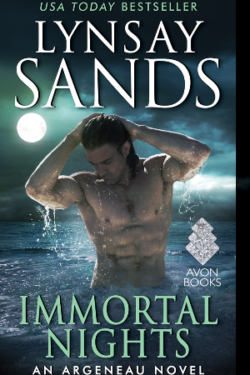 Author

Lynsay Sands

Release Date

September 20, 2016

Publisher

Avon

ISBN/ASIN

9780062316066

Our Rating

Reviewed by

AngelaG
Our Review
Abigail Forsythe is happy to spend time with her best friend. The past year of caring for her ailing mother has not been good to her. Overweight and looking sickly, Abigail knows that she needs a change of pace, especially since she is broke after paying off her mother's debts, and she doesn't have a house to live in. Maybe going away with her friend and spending a week seeing the sights and tanning in Caracas, Venezuela is the break that she needs to find out what she is going to do with her life. What she never expected was to find a chained up, naked man in the cargo hold of her friend's airplane. Whatever is going on can't be good.
Tomasso Notte awakens with the knowledge that he is free and ready to escape again. He is also hungry, and the woman who releases him is looking very tasty. When the chance comes for him to make his escape, he knows that he needs to bring his rescuer with him. Landing in the jungle is not the problem. Keeping Abigail safe from his kidnappers has become his top priority, especially when it becomes apparent that she is his life mate. Tomasso will do what he can to keep her safe, even turning her to save her life. Yet the kidnappers are not finished with Tomasso and Abigail, and Abigail will have to embrace her new reality or she may not make it out alive.
IMMORTAL NIGHTS by Lynsay Sands is the 24th installment of the Argeneau Vampire series, and it is hilarious. Sands has a way with her writing that not only entrenches the reader in the storyline, but is in parts both delightful and suspenseful. Tomasso comes off as an uber alpha male who does a lot of grunting and answers in as little words as possible, but he has a side that he has hidden and it is awesome! Abigail is a wonderful heroine in this story. Dealing with the loss of her mom and her growing attraction to her handsome rescuer/kidnapper would be more than most heroines could handle. And her ability to analyze situations and come up with answers is awesome. The tromp through the jungle is both painful and funny at the same time for the reader. I have been waiting for Dante's and Tomasso's stories to come out, and I am so happy with the way they have been written. This is another fine addition to a wonderful series, and I cannot wait for the next book to come out.