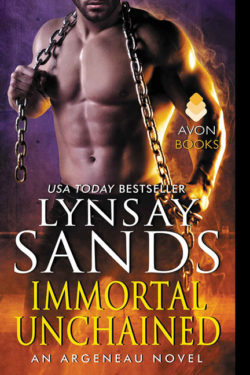 Author

Lynsay Sands

Release Date

March 28, 2017

Publisher

HarperCollins

ISBN/ASIN

B01HXK6FEO

Our Rating

Reviewed by

B Poston
Our Review
The Argeneau series is amazing. However, this story is not quite on par with previous ones released, although it is still a good read.  
Domitian Argenis is an immortal and met his life mate, Sarita, when she was just a teenager. She was way too young to claim, so he stayed on the peripheral of her life. He kept tabs on her to ensure her safety but knew that after she grew up, established a career, he would come to make her his. He has waited centuries to find her and waiting another decade or two doesn't really mean much to him.  
Sarita is waiting on the private island where her Grandmother lives, waiting for her to return from the hospital after sustaining an injury from a fall. However, her return has been delayed, and after waiting several days, Sarita wants to leave and be with her. She was told she could not leave until she received permission from the island owner and her grandmother's employer, Dr. Dressler. Believing he was not on the island, she is angered to learn he has been there all the time working in his lab. She decides to track him down to demand she be allowed to leave.
As a cop, she has viewed things that made her cringe but nothing as horrible as what she finds when she sneaks inside his lab and spies his experiments. Before she can escape, she is caught. 
Now that Dr. Dressler has Domitian and Sarita where he wants them, he can begin a new experiment. They need to work together to escape. Sarita does have some issues to come to terms with though. Domitian is a vampire. Can she trust him to not to hurt her?
This book starts slowly as it builds the characters and background, but once Domitian and Sarita join forces, it quickly becomes a roller coaster ride for them. I did love the return of Lucian Argeneau, who is the crusty, cantankerous head of the Argeneau clan. You can't help but laugh when he enters the story.
IMMORTAL UNCHAINED is the 25th in the Argeneau Series. It is filled with action, adventure, and hot, hot sex. I look forward to seeing what Ms. Sands does next.