In a Badger Way (The Honey Badgers Chronicles Book 2)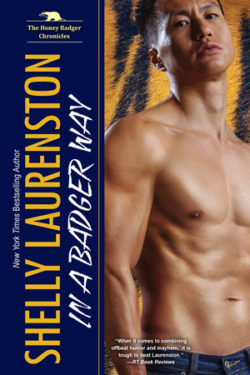 Author

Shelly Laurenston

Release Date

March 26, 2019

Publisher

Penguin Random House

ISBN/ASIN

B07FHYKXYH

Our Rating

Reviewed by

SJ
Our Review
In Shelly Laurenston's hilarious new addition to her Honey Badger Chronicles series, IN A BADGER WAY, we meet Stevie MacKilligan. Stevie is the youngest of the honey badger sisters we first met in HOT AND BADGERED. She's a brilliant scientist with a lot of issues. Not the least is her hybrid shapeshifter nature making her not so stable.
**Note, new readers should start with HOT AND BADGERED, or to get the most enjoyment out of the book, start way back with classic Laurenston in THE BEAST IN HIM, which introduces the reader to the Jean-Louis Parker family of Jackals.)
Stevie doesn't like bears, which is a problem because her oldest sister, Charlie, mated one. Charlie's great at keeping Stevie under control and on her meds, unlike their zany, trouble-making middle sister, Max, who really takes everything up a notch. The antics among the three sisters had me laughing throughout the book. The arguing and banter was over-the-top and laugh-out-loud funny. 
And then there's the hero, Shen, a giant panda shifter. He's so zen, and a complete contrast to Stevie. Their relationship is a slow-build, and it's fabulous! Shen takes everything in stride, from "babysitting" (bodyguard duty) some jackal prodigies to taking care of Stevie when she decides to go undercover to help figure out who's hurting hybrids.
The action is fast, the plot all over the place and yet totally understandable and in keeping with these characters and their histories, and the romance that develops between Shen and Stevie falls right into place with perfect timing.
Filled with danger, romance, and hilarity, IN A BADGER WAY is worth a second read! Then a third, and a fourth… Laurenston shines in this sequel of her bestselling badger series, and loyal readers will get a kick out of seeing so many beloved characters back in this book. 
My only complaint is I finished too soon and can't wait to see what romantic anvil lands on Max's hard head. Bring on the badgers! This is one romance not to be missed!
Recommended Read