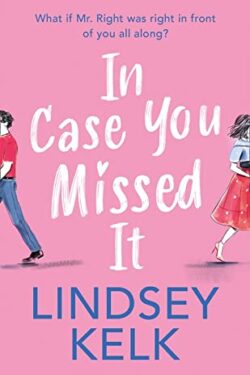 Author

Lindsey Kelk

Release Date

July 23, 2020

Publisher

Harper Collins

ISBN/ASIN

9780008384654/B087TDK1B3

Our Rating

Reviewed by

Michele Rioli
Our Review
One of my favorite authors, Lindsey Kelk, has a new novel and it is filled to the brim with unique personalities, quirky situations and a sprinkling of romance. It is an intimate look into the life of a lady who learns the difficult way that life inevitably ambles on.

Rosalind Reynolds returns home to London after working three years in Washington DC. She's excited to reconnect with her friends and family. She wants to return to her old life, but regrettably her parents changed her bedroom into a garden shed! How will she live in that? Her dad stoically jumps on the comedic band wagon, to the chagrin of Ros, with her parents declarations of love and wanting to renew their vows. Amid stressful events at her new job and wanting to pop back into her old life, she notices her friends and parents have forged ahead without her. What else can possibly happen?
Then, Ros oopsily sends a group text to all her old contacts and hears from the rat who broke her heart. Yearning for the way things were, Ros wonders about another chance at love with her ex. Should she continue seeing her ex-boyfriend against her best friends' warnings? Or will Ros find romance lurking at her favorite neighborhood bar?
IN CASE YOU MISSED IT is a flurry of funny moments, numerous nutty scenarios, a simply divine cast of characters with a distinct, bent view of the world according to Ros. Ros is struggling to cope being back home after being abroad for three years. What she returns home to, with her parents, is an eye opener for sure! Her dad and mom are remarrying, since they are totally in love. Wow, Ros didn't see that one coming! Her new job has her rattled coping with clashing personalities. Her friends and ex-boyfriend definitely are happy to have her back, but Ros doesn't seem to fit in like she used to. Ms. Kelk delivers a journey of self-discovery that people evolve whether you like it or not. Ros cherishes her friends and relatives, but wishes everything can remain the same. Although, that isn't the case in real life. I always enjoy chic lit novels and Ms. Kelk's stories are always winners! IN CASE YOU MISSED IT is an emotional, stylish, light, comical and witty story. A rare find!