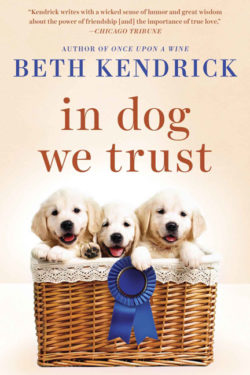 Author

Beth Kendrick

Release Date

January 8, 2019

Publisher

Berkley

ISBN/ASIN

B07CG1XTHN

Our Rating

Reviewed by

BPoston
Our Review
The story about a young woman becoming guardian to three dogs who inherit the estate of their deceased owner caught my attention. What an interesting premise for a story.  
Jocelyn was totally shocked when she was named guardian for three champion Labrador Retrievers. She had been working as their dog walker for several months.  However, when their owner, Mr. Allardyce, passes, the dogs inherit the mansion he left along with assets, so they and their progeny (should they have any) can live in the lap of luxury. Jocelyn runs a laundry business with her mother and really is not comfortable with how the rich live. But she loves the dogs and will do anything to ensure they are taken care of, including fighting Mr. Allardyce's relatives, who believe they and not some dogs should inherit the estate.
Liam is angry about his father's will. He and his father never got along because of how his mother was treated. He believes his mother is owed something for the pain his father caused her, and he is determined to sue the estate to get what he believes is owed to her. Now the fight is on.
IN DOG WE TRUST is a cute story, and I enjoyed reading the book but felt the relationship between Jocelyn and Liam should have been more thoroughly explored. I really did not buy into a romance between them but did enjoy their sparring. The dogs are fun, and I laughed at the mischief they got into. If you want a story that is cute, has humor, and is fun to read, this is the book for you.