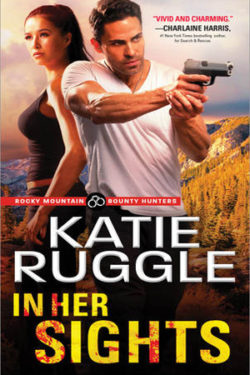 Author

Katie Ruggle

Release Date

March 26, 2019

Publisher

Sourcebooks Casablanca

ISBN/ASIN

1492662496

Our Rating

Reviewed by

SJ
Our Review
In Katie Ruggle's new series, Rocky Mountain Bounty Hunters, the Pax sisters work together to bring in their bounties while dealing with their thieving mother.
IN HER SIGHTS, the first story, belongs to Molly, who's pretty obtuse in regards to hunky John Carmondy, her rival and love interest. Grudgingly, Molly works with John to figure out why the heck her mother would steal a twelve million dollar necklace and then locate her mom after she skips bail. As the danger mounts, Molly and John have to rely on each other, with the help of Molly's sisters–and what a cast of characters they are–to stay alive and solve the case.
I'm a huge fan of Ruggle's previous series, SEARCH AND RESCUE and ROCKY MOUNTAIN CANINE UNIT, and the idea of bounty hunting sisters excited me.
The book is fun and filled with adventure, but the main characters took a little time to grow on me. Once they did I was hooked, but I was also a little let down by the slow burn to romance. It catches fire, for sure, but the build-up took more time than I'd figured to get going.
All in all, a decent opener to ROCKY MOUNTAIN BOUNTY HUNTERS. Ruggle writes compelling characters and adrenaline-filled adventure. I'm looking forward to Cara's story in RISK IT ALL, coming in December.