In the Dark with the Duke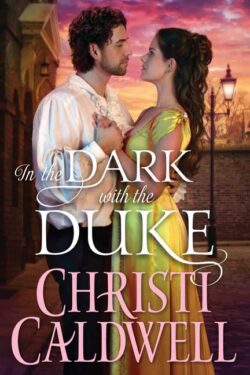 Author

Christi Caldwell

Release Date

June 9, 2020

Publisher

Montlake Romance

ISBN/ASIN

9781542021265

Our Rating

Reviewed by

Jo
Our Review
IN THE DARK WITH THE DUKE is the second book in the LOST LORDS OF LONDON series. While I haven't yet read the first book, IN BED WITH THE EARL, I didn't feel lost since enough information was given relating to the backgrounds of the characters and their history. 
The prologue sets the stage for the story and takes place in London in 1810. The story takes place in 1828. Lila is part of the ton but due to injuries she sustained many years ago she became a recluse. When she decides she wants to learn to fight to protect herself and those she loves, she goes to a fight club and has Hugh teach her. 
Hugh and Lila have an instant attraction, but given the unsavory paths his life has taken him, he tries to keep her at a distance. They both have a lot of secrets, and that adds to the drama in the story.  
The story involves the interesting Fight Society, which did slow my reading, trying to absorb it all. The romance is satisfying, the pacing perfect, and the characters rich with detail. The story does end rather abruptly, though happily. I hope that we meet up with Hugh, Lila, and the others in the third and final book in the series, UNDRESSED WITH THE MARQUESS.