In the Eye of the Storm/Catering to the CEO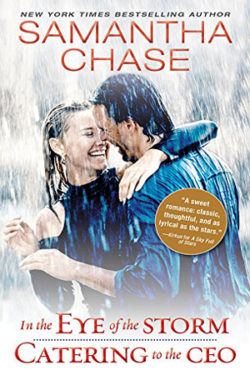 Author

Samantha Chase

Release Date

April 3, 2018

Publisher

Sourcebooks Casablanca

ISBN/ASIN

978-1492622710

Our Rating

Reviewed by

SJ
Our Review
Samantha Chase writes feel-good romances, and these two office romance novellas are just the thing to bring a smile to your face. They're fun, sexy but not overly, and have the requisite conflict and happily ever after readers want.
In THE EYE OF THE STORM, Holly Abrams has had it with her demanding boss, Stephen. Sure, he's sexy as sin, but he takes her for granted, and she's tired of it. When she finally puts her foot down, Stephen starts seeing her in a different light. Suddenly the sparks are flying, but interfering friends might sabotage what could be a great thing between them. 
The second novella, CATERING TO THE CEO, involves two enemies who become lovers. Cassie Jacobs is a caterer and tired of dealing with millionaire CEO Adam Lawrence's snobbery and nit-picky ways. But when their parents become engaged, the pair are forced to mingle. Misunderstandings grow clearer, and Cassie realizes Adam isn't so bad. He's actually quite lovable, that's if he'd let go of the past and allow himself to be happy. This story also dealt with a women's health issue in a way that was very well done, bringing attention to something too many women deal with.