In Your Arms, A For Your Love Novel, Book 2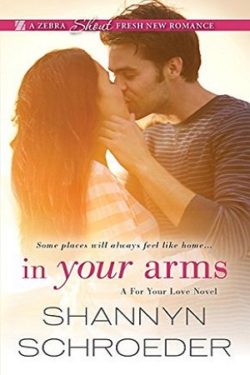 Author

Shannyn Schroeder

Release Date

December 27, 2016

Publisher

Zebra Shout

ISBN/ASIN

9781420139518/B01DRXCGGM

Our Rating

Reviewed by

Michele Rioli
Our Review
Prepare to be amazed as a handsome, rugged man sweeps a damsel in distress off her feet and onto his motorcycle in the story, IN YOUR ARMS. Emma, an energetic kindergarten teacher, is about to blow her top. Her day at work was not the best and now she's stranded on the side of road. She is seriously considering yelling at her brother since he didn't repair her car when she paid him in advance to fix it. Brothers! Her world is about to get better though, when a hunkalicious guy on a motorcycle comes to her rescue. Sean O'Malley is everything Emma doesn't need right now because he is a typical bad boy. She's had a relationship with one before. Plus, she isn't looking for love.
Sean drives Emma on his motorcycle to a garage where he works to get her car repaired. Nevertheless, Emma says yes to Sean when he asks her out for drinks afterward. Time spent in Sean's charming presence turns into something more. Heaven help her! Will Emma and Sean do the mattress tango? Does the future hold something special in store for them?
IN YOUR ARMS is about a romantic relationship work in progress. Emma and Sean are like hazy shades of autumn, floating through life, and not really living it. Sean is still finding his way in the world, jumping from job to job and relishing his freedom. He meets Emma and she shakes up his world. Emma's viewpoints encourage him to make a difference with his future. Only, Emma is trying to overcome past mistakes by forging a better future for herself by working at a responsible job. Unfortunately, Sean detours her focus. As she spends time with him, she realizes he's not an irresponsible bad boy as she originally thought. He is a man of honor and fortitude. The author, Ms. Schroeder, portrays a very realistic view of a couple and their flaws. I was drawn into their world as they navigated the romance waters, emotional drama and some added surprises. IN YOUR ARMS is a beautiful testament to compromise, love and real life. Highly enjoyable!