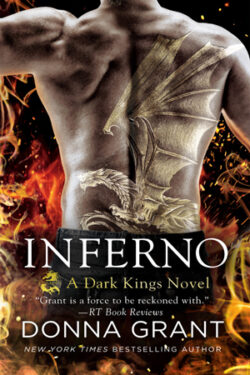 Author

Donna Grant

Release Date

August 25, 2020

Publisher

St Martin's Press

ISBN/ASIN

B08435BXTF

Our Rating

Reviewed by

Raonaid
Our Review
Constantine, Con to his brethren and friends, is the Dragon King of the Golds and the King of the Dragon Kings. He intends to correct the many wrongs he has committed over the centuries. Con deeply regrets giving up his mate, and he plans to win her back. To draw out their mutual enemy, Con and Rhiannon must pretend to publicly reconcile. Can Con convince Rhi to give him another chance? Or will fate intervene?
Rhiannon, Rhi to her friends and family, is a powerful Light Fae. She assumes the Light Fae throne only to needle her nemesis. Reluctantly, Rhi pretends to reunite with Con just to lure out their enemy. However, she discovers some shocking things about her ancestry. Will Rhiannon defeat Usaeil? Can she unite the two Fae factions? Will Rhi be able to forgive Con for breaking her heart?
Finally, Con's mate is revealed! It was fun the first couple books wondering and guessing who would become his mate. I like how easily Con acknowledges the mistakes he has made over the years. It shows the kind of leader he is. What I admire the most about Con are the numerous sacrifices he makes for his brethren. He put aside his own needs and happiness for his Dragon Kings. It was not easy, but he managed to endure.
Rhiannon has undergone tremendous growth throughout the series. As with Con, it was entertaining trying to figure out which Dragon King is hers. I am just happy that both finally got the closure they deserve. I like how Rhi never forsook her people. She may have been banned, but she never blamed her people for their queen's evil. What I love the most about Rhi is her dedication and loyalty to those she lets close. Despite her heartache, she always came to the Dragon Kings aid.
INFERNO is book eighteen in Donna Grant's widely popular paranormal romance series, DARK KING. It is important and necessary to read the prior books and novellas to understand the couple's journey and development. The author may have closed a chapter with her dragon kings, but she has introduced the new one to come.
INFERNO is an exhilarating conclusion to a spellbinding and fascinating series. I am relieved this is not the end of the dragon kings. I cannot wait for the spinoff series!