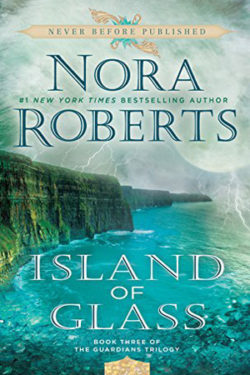 Author

Nora Roberts

Release Date

December 6, 2016

Publisher

Berkley

ISBN/ASIN

978-1410493309

Our Rating

Reviewed by

AngelaG
Our Review
The end is here and the Guardians are one step closer to defeating Nerezza to save the world. Two stars have been found. Nerezza was hurt and defeated in their last battle, but she has not been destroyed. Now she will unleash one of her main weapons in her quest to destroy the Guardians before they can find the last star. It is time for all the members of the Guardians to put their skills to use in locating the final star and find the way to the ISLAND OF GLASS. There, they can finally return the stars and defeat their foe in battle.
Doyle Mac Cleirich has seen centuries pass. As an immortal he cannot die, so he followed his path of war through the centuries, and it has lead him to the Guardians. He is in another fight, another battle, but this time he has companions who will fight beside him. The sorcerer, time traveler, seer, and the mermaid have found stars and found love. Now it is the time of the warrior and the shifter. But love is not something that Doyle has, nor does he need it in his life. Yet when Riley is injured, Doyle stops fighting his desire for her. Now he has something more to fight for, if they survive the coming battle.
Dr. Riley Gwin has spent her life searching for the past. A renowned archaeologist, Riley has made contacts throughout the world. Being a shifter gives her the strength and stamina needed for the battle ahead. She will put her knowledge and strength to the test in searching for the history of the making of the stars, and also to find where the last one is located. Time is short, and her attraction to Doyle only grows. Danger surrounds them, and when it's unleashed, Riley will need everything she has to survive.
I have been a fan of Nora Roberts for years, and ISLAND OF GLASS was typical Roberts in her ability to spin a tale of whimsy and danger. I will not say that I loved this story, but it was a good and entertaining read. I was really impressed with the idea of an immortal warrior and a werewolf archaeologist, but I felt that the relationship development between the two characters was somewhat stilted. Doyle was a very interesting character with his outwardly stoic exterior and emotions kept inside. He and Riley are a perfect match of strength and independence, a passionate and loving couple. I would recommend reading the trilogy to fully understand the storyline.