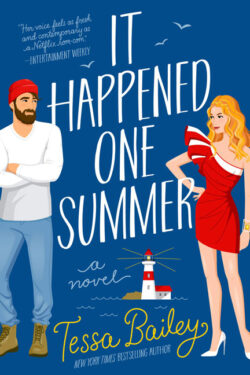 Author

Tessa Bailey

Release Date

July 13, 2021

Publisher

Avon

ISBN/ASIN

B08L3NHJ88

Our Rating

Reviewed by

LJT
Our Review
If you are a fan of the city mouse/country mouse trope, then you will love this romance between the Los Angeles socialite and the Westport burly sea captain. IT HAPPENED ONE SUMMER is Tessa Bailey's latest book, and the two main characters are replete with good-looks, kindness and plenty of heat.
Piper Bellinger is a socialite with the mostess, while secretly yearning for more out of life. She enjoys wearing designer clothes and being the life of the party, until her latest stint lands her in jail. Although she is twenty-eight, her stepfather has had enough of her antics and decides that she needs to learn about responsibility. As a result, he limits his financial support and requires her to spend three months in her late father's hometown in Washington, managing his rundown bar. Luckily, Piper's sister agrees to go with her, and they embark on a new normal.
Brendan Taggert has been a fisherman his entire life, and he doesn't feel whole unless he is on the sea. Being the captain of his late wife's father's boat is his true calling. Brendan is a creature of habit and schedules his days accordingly. Then Piper walks into his life, and there is an instant attraction. Over time, they fall into lust and love.
I liked this book. Ms. Bailey is a talented storyteller, and I love how she defines her characters. By the end of the story, I felt that I knew Piper and Brendan intimately, and that their future would be everlasting. Their sexy times were extremely hot. Hannah, Piper's sister, was an interesting character, with her love for music on vinyl. I am truly looking forward to her story, which is scheduled for release early next year. This is the first book from the author's brand new series, IT HAPPENED ONE SUMMER, and it can be enjoyed as a standalone.