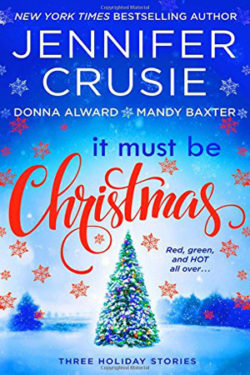 Release Date

October 4, 2016

Publisher

St. Martin's

ISBN/ASIN

9781250106377

Our Rating

Reviewed by

Chrissy Dionne
Our Review
HOT TOY by Jennifer Crusie
Trudy's mission to nab the toy of the year, Major MacGuffin, for her nephew for Christmas is destined to be an utter failure.   It's sold out everywhere and her last ditch effort lands her in a hole in the wall toy store where she luckily manages to find last year's model.  However, that moment of glory is ruined by the presence of Nolan, a man she once dated who apparently thought she was boring and never called her again.  Now he wants her Major MacGuffin,  Trudy's in possession of the last HOT TOY to be found anywhere (and it's the wrong one),…to complicate matters further, there's a dangerous secret attached to her prized toy.
Jennifer Crusie's HOT TOY was my favorite laugh out loud story in this anthology. Every adult who's ever had to hunt for an elusive 'have to have' toy for a child in their life could easily identify with Trudy.  Ms. Crusie instills a sense of humor into a time of year that's so stressful for many people and brings a smile to your face as you follow along with Trudy's drama filled situation.
CHRISTMAS AT SEASHELL COTTAGE by Donna Alward    
Local doctor Charlie Yang has never done anything without weighing the pros and consequences of her actions so it's with that in mind that she's attempting to make friends in the Jewell Cove community by helping prepare for the Christmas festivities at the local church. What she hadn't planned and couldn't foresee is meeting the man she's secretly watched from afar, ex-SEAL Dave Ricker, or the baby left in the nativity manger.   Christmas is a magical time … can Charlie and Dave let go of their self-doubt and worries to find happiness together?
Donna Alward's contribution to this anthology is a heartwarming treat. Charlie and Dave are a cute couple on their own but I love how Ms. Alward makes them multidimensional by giving them interesting backstories that 'speak' to the reader.   The abandoned baby angle really won me over and I couldn't wait to find out the truth about why his mother left him. I've read many of Ms. Alward's books but somehow completely missed the JEWELL COVE series – an oversight I intend to correct.
CHRISTMAS WITH THE BILLIONAIRE RANCHER by Mandy Baxter
Nate might be a billionaire thanks to his father's recent demise but it's a status he doesn't want. He certainly isn't interested in any of the money grubbing social climbers who are only interested in him because of his wealth.  Giving away his new found fortune seems like a good idea but when he meets Chloe Benson his mind becomes focused on other things – namely lovemaking with the delectable woman.  Chloe runs a charity that desperately needs funding – and that was the original reason she approached Nate – but once they become lovers she quickly realizes that she'll have to find financial help for her charity elsewhere. 
Mandy Baxter's story is probably the most sexually charged tale in this anthology. Nate and Chloe have a cute relationship based on mutual desire.  As a reader I knew there would be issues at some point because of the money so I anxiously read their story hoping for the best for them as well as Chloe's charity.  There's humor, angst, love, lots of sex and forgiveness in this storyline that will have readers thankful for the people who take their charitable dedications to heart.