It's Getting Scot in Here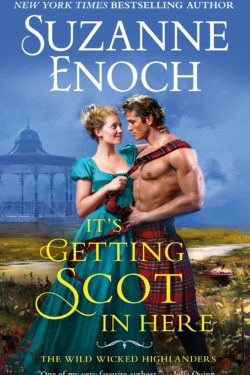 Author

Suzanne Enoch

Release Date

February 26, 2019

Publisher

St. Martin's

ISBN/ASIN

978-1250296375

Our Rating

Reviewed by

Raonaid
Our Review
Niall MacTaggert is the youngest of the three wild and rowdy MacTaggert brothers. He and his brothers must comply with their estranged mother's demands in order to save their ancestral home. Niall willingly acts as his brother's stand-in when Coll refuses to court the bride chosen for him. He never expects to take a liking to the beautiful and outspoken woman. When their marriage agreement is absolved, Niall decides to pursue Amelia-Rose in earnest. Can Niall convince Amelia-Rose to marry him?
Amelia-Rose Baxter is a socialite entering her second season. She intends on wedding the titled Highlander her parents have chosen for her. However, her betrothed is not what Amelia-Rose expects nor wants. When Viscount Glendarril stomps out on her, his younger brother saves Amelia-Rose from public scrutiny. Niall's charming disposition tempts her to break away from the ton's conventional expectations. Will Amelia-Rose defy her parents to marry Niall? Or will they stand in their way?
Niall is such a charming rascal. He is known as the family and clan's peacekeeper; the one people seek whenever they need a problem or dispute resolved. Niall and his brothers' hijinks in London made me laugh continuously throughout the book. I adore his dedication to family, especially to his brothers and younger sister. Niall takes such lengths to help and protect the people he cares about, no matter the repercussions to himself. But what I love the most about Niall is the way he encourages Amelia-Rose to stay true to herself. He finds her outspokenness attractive.
Amelia-Rose steadily grew on me, especially after her meeting with the charismatic Niall MacTaggert. I sympathize with her for dealing with her parents' egoistic singlemindedness. She tries vainly to conform to what they and society views a debutant ought to be. What I love the most is how Niall's influence helps Amelia-Rose re-evaluate what is important in life. Everything she believed to be important proves to be superficial. Amelia-Rose decides to be herself and fight for what she wants for once.
IT'S GETTING SCOT IN HERE is book one in Suzanne Enoch's brand new historical romance series, WILD WICKED HIGHLANDERS. I absolutely adore the book's title. It is so unique and different from the usual titles in the genre. I hope the trend continues with future stories in this series. I also like how the author asked her fans for help in naming the MacTaggerts' horses, and the name I suggested got chosen.
IT'S GETTING SCOT IN HERE is an entertaining tale of two people overcoming incredible odds to be together. It has been some time since I had such fun reading a story. I cannot wait for the next MacTaggert's hijinks in London.
A recommended read.