It's In His Christmas Wish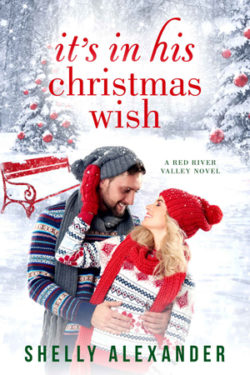 Author

Shelly Alexander

Release Date

November 12, 2019

Publisher

A Touch of Sass, LLC

ISBN/ASIN

9781734149807

Our Rating

Reviewed by

Jo
Our Review
IT'S IN HIS CHRISTMAS WISH is the seventh book in the RED RIVER VALLEY series. It did not disappoint in returning us to small town life and all things Christmas. All the titles of the books in the series begin with It's In His… which is a nice touch. I love the cover as it depicts some playfulness along with holiday and winter vibes.
There is some darkness to the story given the losses some characters have experienced, but for the most part it was heartwarming. Kimberly wants every child to experience Christmas firsthand, never to be forgotten around the holidays. She also keeps her heart guarded and has no family and few friends. Kimberly works pro-bono as a lawyer for children's issues and single parents in her law firm where she partners with her best friend. When Ross finally breaks through her barriers after their friendship faltered several months ago, she tries to keep him out. Their challenging relationship really pulled at my heartstrings..
Everything in the story leads up to Christmas. There are laugh-out-loud moments, plenty of holiday memories, and new traditions to make. There are definitely burn-up-the sheet moments in this romance. Ross' dog is a cute addition to the story, as is the child being fostered by a local family. Note also that this is the last book in this series and really wraps things up nicely.
Ms. Alexander is an author whose books I've only read in this series, and I've missed two of them along the way. I look forward to seeing what her next series will be about.