It's In His Song (A Red River Valley Novel Book 6)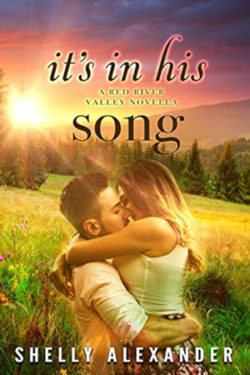 Author

Shelly Alexander

Release Date

June 24, 2019

Publisher

A Touch of Sass, LLC

ISBN/ASIN

B07RFCDQYF

Our Rating

Reviewed by

Jo
Our Review
IT'S IN HIS SONG is a nice continuation of the RED RIVER VALLEY series. It's the sixth book, and there's still more story to tell. I loved being back with the characters we've met before and the small town flair! It's a nice second-chance romance with a little twist.
The story moves quickly, and we're easily brought up to speed with past events. So even if this is the first book you've read in the series, you'll find it easy to follow. Hailey returns after a six year absence to go into business with her cousin, along with her young daughter in tow. She's a hairdresser, and her love that got away is Dylan, who went to LA to become a music sensation. Not only did he never look back, he never even said goodbye!
Their paths definitely cross since he's back in their small town and working at his uncle's bar, which happens to be right next door to her salon. The salon also happens to be undergoing renovations and is causing havoc at the bar. 
The old chemistry is still there, and Hailey and Dylan often forget where they are as the years seem to drift away. Hailey's daughter is a cute addition to the story, although Dylan doesn't think so when their paths cross. The end felt a little rushed for me though I still enjoyed the story.
Ms. Alexander is an author I've enjoyed. I've read the first, third and fifth book in this series. IT'S IN HIS HEART, IT'S IN HIS SMILE and IT'S IN HIS FOREVER. I need to read the missing books, IT'S IN HIS TOUCH and IT'S IN HIS ARMS.