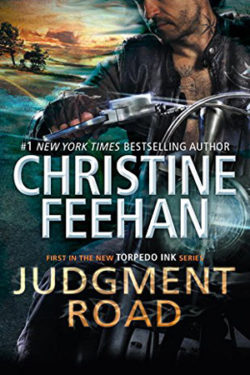 Author

Christine Feehan

Release Date

January 23, 2018

Publisher

Berkley

ISBN/ASIN

978-0451488510

Our Rating

Reviewed by

Angel Brewer
Our Review
JUDGEMENT ROAD is the first in a new series called TORPEDO INK. This series involves a biker gang that bands together to take in a woman whom they have only called friend. But one of their own decides to claim her, she becomes family, and nothing will stop them from protecting her from the evil that is stalking her every move.
Reaper is a trained killer. He has been doing it since he was a small child in Russia.  When he comes across Anya, he refuses to let himself get close to her. Reaper is aware when someone is running from something, and Anya is definitely on the run from someone. After her life is threatened, Reaper has no choice but to keep Anya safe.  Problem is, he doesn't want Anya getting under his skin and becoming a permanent part of his life. What Reaper doesn't realize is that Anya is already commanding his heart.
Anya Rafferty is a woman on the run. She just wanted to lose herself in the crowd and figured that in a biker bar no one would dare look for her. Anya has quietly watched Reaper from afar, always careful to stay out of his way. After a run-in with some bikers, where Reaper saves her, Anya knows Reaper will firmly plant himself as her protector.  The people looking for Anya will have no mercy if they find her, and that includes taking out Reaper and his biker family. Can Anya find a way to keep them safe, or will her past come back to haunt her and her newfound family?
JUDGEMENT ROAD is an intriguing tale with plenty of suspense and action to get the blood flowing. Reaper is our sexy hero with a definite dark side, but he is also broken emotionally, and that makes you both love and hate him at times. Anya is a woman with a history of pain and trauma, but it makes her a stronger person, and you will quickly become her cheering section. The passion is this book is very intense and does not slow down once it starts. If you are looking for a new series to sink your teeth into, then TORPEDO INK is certainly the series for you.