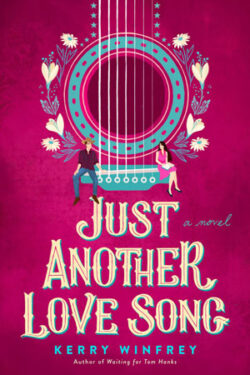 Author

Kerry Winfrey

Release Date

August 2, 2022

Publisher

Berkley

ISBN/ASIN

978-0593333433

Our Rating

Reviewed by

Fiona
Our Review
Sandy Macintosh grew up loving her high school sweetie, Hank Tillman, in a very small town they both wanted to escape as soon as possible—Sandy to become an artist and Hank to become a singer/songwriter. When he goes away to college, her scholarship falls through, and she's forced to stay in the town, living at home. When they next see each other, she hears their friends talking about how exciting it is to be experiencing new things. She fears Hank will realize how unhappy she is and come back, thus ruining his future plans—so she breaks up with him.
Fifteen years later, he walks into the grocery store in town. She now owns a nursery and is still an artist but with plants. He's a famous country singer, now divorced, with his young son in tow. The town is so small, and the residents' lives so intertwined, there's no way for them to avoid each other. Now what?
I really liked these two characters, along with all of their friends. The small town residents all seem to be friendly folks who want the best for each other. I was annoyed that Sandy is too afraid to admit, even to herself, how she still feels about Hank. But I was more annoyed to discover this is a sweet romance. When they finally have their big moment, I was hoping to discover just what Hank meant when he said, "I've become better at a lot of things since I was seventeen." Instead, the next page has them eating ice cream out of the container—afterward. WHAT? My mom used to drop-kick books across the room when writers staged a big build-up then gave the reader no satisfaction (no details.) I feel the same way. But if you like sweet romance, you'll love this book.