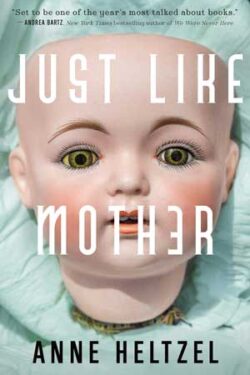 Author

Ann Heltzel

Release Date

May 17, 2022

Publisher

Tor Nightfire

ISBN/ASIN

9781250787514

Our Rating

Reviewed by

SJ
Our Review
Ann Heltzel's jaw-dropping thriller, JUST LIKE MOTHER, combines feminism, dysfunction, horror, and a cult! This is obviously not a romance, though it has some romantic elements. It's a jarring thriller that will keep you glued to the pages, then rereading to capture that brilliant ending all over again. 
Maeve grew up in a cult, but we are in the present for most of the book, with flashbacks to the past, done with to great effect. Maeve is living an unfulfilling life in her early thirties, when her cousin, Andrea, whom she hasn't seen in years, contacts her after finding her in a DNA data bank.
They start to reconnect, and the reader learns little by little what life was like in the cult and sees how it has shaped these women's lives, Maeve's especially. Andrea is now rich, married, and very successful. She invites Maeve to spend time with her and her husband at her renovated house (mini-mansion) in the Catskills, and that's where things start to grow very, very strange.
It's hard to describe what happens without spoiling the book. However, the author does a fantastic job showing the varied roles women play, from giving birth to running a multi-million dollar company. (Expectations, children, and the role the sexes are "born to follow" make for interesting reading.) The strange conditions in which Maeve and Andrea were raised affect everything in the present. Before long, Maeve is trapped by an insidious group with insidious ideas Maeve has been around before. And the ending is twisty for sure, which elevates the plot even more.
The way the author keeps the suspense while pushing the story forward through flashbacks and intense dialogue is riveting, and the horrific ending was there and gone before I knew it. A definite thriller to add to your reader shelf.