Just One Touch: A Slow Burn Novel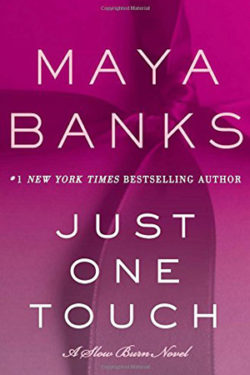 Author

Maya Banks

Release Date

May 23, 2017

Publisher

Avon

ISBN/ASIN

0062410180

Our Rating

Reviewed by

BPoston
Our Review
Jenna has lived almost all of her life in a cult. She has very little knowledge of the world that exists outside the walls she has been forced to stay within. Her life has been hell–she's been forced to do whatever bidding commanded of her by the male members. Her goal is to escape, and she looks for any way possible to make this happen. Anything is better, even chancing death, than living the life she now has.
Isaac Washington, a member of Devereaux Security, has no idea that his life is about to change when he stops for coffee at a local shop. Heading back to his vehicle, he sees a bruised and bloodied young woman dressed in ripped clothing trying very unsuccessfully to steal his SUV. Just looking into her wide, frightened eyes, he can see she is in trouble and offers his help. But before he knows it, bullets start flying, and he is hit. At that moment, he knows he is going to die. Before he passes out, he tells Jenna to take his vehicle and escape.
Jenna has a special gift. This gift makes her very, very valuable. She knows she needs to escape but can't bear the thought of this man dying because of her. Jenna lays her hands on the critically injured Isaac and heals him. Knowing he will recover from his wounds, she then escapes.
Isaac has no idea what happened to him, but other than being covered in blood, he's okay. Whatever Jenna did to him saved his life. He knows he has to find her and will do whatever is necessary to keep her safe. However, Jenna doesn't want anyone else getting hurt trying to help her and will do what she believes necessary to keep others safe.
JUST ONE TOUCH by Maya Banks is an action adventure story with twists and turns. I really enjoyed the paranormal aspect of the story but felt the romantic relationship between Jenna and Isaac moved a little too quickly. However, I found the book to be a great read. For someone who just wants to escape their own world for a little while, reading this book is a trip worth taking.