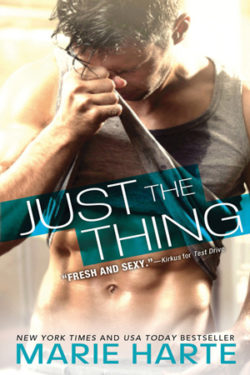 Author

Marie Harte

Release Date

July 4, 2017

Publisher

Sourcebooks

ISBN/ASIN

B01ND1KNSS

Our Rating

Reviewed by

BPoston
Our Review
In JUST THE THING by Marie Harte, Zoe York has always played by the rules. She never takes risks and has always played it safe. However, when her twin sister suddenly dies, it throws her life into turmoil. Her sister was the kind of person who always had fun and always encouraged Zoe to live a little. Now alone, Zoe is looking at her life and trying to decide how to honor her sister's memory by moving forward in a manner that takes her out of her comfort zone so she can try new experiences.
Gavin Donnigan is teaching a self-defense class Zoe is taking at the local gym. He loves women and in particular thinks Zoe is banging hot. The only problem–she won't give him the time of day. He tries his best lines on her, but she does not seem interested. Other women seem to enjoy his company, but the woman who really intrigues him barely glances his way. This is so frustrating.
JUST THE THING is book 2 in The Donnigans Series and is about two people who have each hit a crisis in their lives. Zoe is reeling from her sister's death and trying to figure out what to do next. Gavin is a former Marine who is recovering from being wounded both physically and mentally while serving his country. He's trying to get his life together and fears it will not happen. Keeping his past relationships light and flirty has helped him get through some really tough times, but he realizes that won't work with Zoe. The more he gets to know her, the more he dreams of having a normal life. He needs to address the post traumatic stress disorder he suffers from before he can even begin to think of having the kind of life he really wants.  
I really enjoyed this book by Marie Harte. My heart went out to both main characters who suffered such horrendous losses. However, even when things got hard, they kept putting one foot in front of the other, facing their demons until finally, they both realize just how much stronger they are when they are together. This is a great book to start off your summer by reading.
RECOMMENDED READ