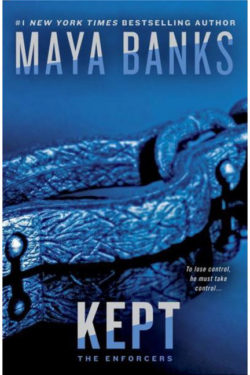 Author

Maya Banks

Release Date

October 25, 2016

Publisher

Berkley

ISBN/ASIN

978-0425280676

Our Rating

Reviewed by

Jill D
Our Review
KEPT, the third book in The Enforcers series, is about Silas and the woman he falls hard and fast for – Hayley. Maya Banks has long been one of my favorite authors, and the first book in this series – MASTERED – reminded me of why I fell in love with her books all those years ago. While book two – DOMINATED – didn't quite meet my expectations, I did find this one to be good. This book does contain difficult topics, including drug use and rape, which could cause emotional triggers. As with all of this author's books, they are not for the faint of heart and contain very steamy romance.
Hayley Winthrop is a twenty-two year old music student who lives on her own in New York City. After losing both her parents to illness, she is literally all alone in the world. But she is determined to fulfill her promise to her father of becoming a professional violinist. In order for Hayley to live in New York and attend the prestigious music school, she works multiple jobs and attends school part time. Just when Hayley thinks she was all set for the semester, life throws her another unexpected curve ball and sends her scrambling to find a new place to live. After searching all over the city for somewhere affordable and safe, Hayley is becoming increasingly skeptical that such a place exists until she visits a rather nondescript building in Manhattan, and all her prayers are answered.
Silas is a man we have known throughout the series as Drake's enforcer, and while he has always come off as aloof and jaded, watching his brother, Drake, fall in love has changed him. Being the control-freak that he is, Silas has his entire building under video surveillance. He was actually home and able to watch Hayley inquire about the apartment for rent. Silas has his property manager offer the apartment at a ridiculously low rate just so Hayley is able to rent in his building. Silas is comfortable watching from afar thinking himself too damaged for someone so innocent but there is just something about her that calls to him.
I truly wanted to rate this higher, but the mafia portion of the storyline was so glossed over that it felt like it was tied in a big bow to end the book. I am hoping she continues the series with the rest of the guys getting their stories too. Maya Banks knows how to write a steamy romance, and I will always be ready and willing to read them.