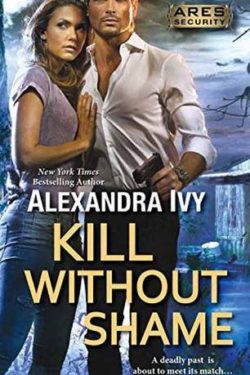 Author

Alexandra Ivy

Release Date

December 27, 2016

Publisher

Zebra

ISBN/ASIN

978-1420137576

Our Rating

Reviewed by

Raonaid
Our Review
Lucas St. Clair co-owns ARES Security with four of his comrades-in-arms. He blatantly declines to follow in his influential family's chosen career path for him. Lucas returns to Louisiana after a former school colleague is found murdered with a photograph of his high school sweetheart in his pocket. He decides to re-win Mia Ramon's love and trust, yet the stubborn woman refuses to cooperate with his altruistic intentions. Lucas is determined to protect Mia at all cost when an unforeseen threat targets her. Will Lucas and Mia discover who killed their former school mate? Can Lucas keep Mia from being the next victim?
Mia Ramon owns and operates Ramon Landscaping and Nursery in Shreveport, Louisiana. She receives devastating news about her childhood friend's death. Mia refuses to allow Lucas St. Claire to worm his way back into her life or her heart. She agrees to help Lucas investigate their mutual friend's death while dodging murder attempts. Mia and Lucas, with the aid of his ARES buddies, slowly unearth their friend's shady past. Will Mia learn the truth about her friend's murder? Can she and Lucas reveal the true culprit before she ends up joining her friend in death?
Lucas is such a sweetheart. He may have been born into wealth and prestige, yet he never behaved snobbish and entitled. I understand and somewhat admire Lucas's selfless reasons for letting Mia go fifteen years ago. He regretted that decision, however, he would rather protect Mia from his conceited family's expectation. I love how Lucas refused to save his own skin, but instead, he endured the same nightmare as his comrades did until they could escape together.
Mia is everything I enjoy in a heroine. She is spunky, stubborn and independent, yet she also has a vulnerable side. I admire how Mia took her father's smalltime lawn-mowing and gardening service and expanded it into a successful, thriving business. Mia continuously shows her thoughtfulness and dedication towards the people she sees as friends. I like that she offered one friend a permanent position at her business while employing another whenever he needed money. However, what I like most about Mia is her ability to stand her ground around those who believe they are better than she is.
KILL WITHOUT SHAME is book two in Alexandra Ivy's romantic-suspense series, ARES SECURITY. Regrettably, I have not read the first book, yet that did not hamper my ability to follow the story. The book can standalone; however, I get the impression that KILL WITHOUT MERCY explains the security firm's creation better.
KILL WITHOUT SHAME is a gripping story of fate, allowing one to right past wrongs with a second-chance. I am not a fan of the second-chance/reuniting trope, but I did not mind it with this story. I hope either Teagan or Max's story will be next.