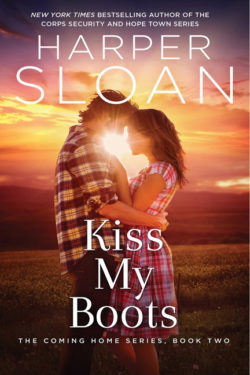 Author

Harper Sloan

Release Date

July 18, 2017

Publisher

Pocket Books

ISBN/ASIN

B01MQ3MP7R

Our Rating

Reviewed by

BPoston
Our Review
If you had the opportunity to get a second chance at love with your first love, would you?
In Harper Sloan's KISS MY BOOTS, Quinn Davis lives in Pine Oak, Texas. She runs her family's auto garage and is a whiz at mechanics. She has two passions: restoring vintage trucks and her long time love for Tate Montgomery, her high school sweetheart who left her for college without a word. For years, she has worked hard and played hard but has never forgotten Tate, which makes getting romantically involved with any other man pretty much impossible. At this point in her life, she believes men are more trouble than they are worth.
Tate Montgomery always wanted to become a small town doctor like his Paw. However, he loved Quinn, and the college his parents insisted he attend was several states away. He did not want to be so far away from his true love, but unless he went, his father, being a rich, powerful man, threatened serious economic consequences to Quinn's family. After all, Quinn's family were working-class people and not good enough for the Montgomery line. Wanting to keep Quinn safe, Tate cut all ties with her when he went away and did what his father demanded.
Things have changed. He's now a doctor. His Paw, Pine Oak's local doctor, has passed away, and Tate is coming home to work in his practice, to the place he has always belonged and hopefully to the woman who has never left his heart. He knows Quinn has never married and is currently not dating anybody, so he's praying she will forgive him once she learns why he left the way he did.  
Quinn and her family are not going to make things easy for Tate. He broke her heart. Pretty words don't heal that kind of hurt easily. He definitely deserves to suffer for his past actions. Payback can be fun.  
KISS MY BOOTS is a fun contemporary western that made me smile throughout the book. Quinn is refreshing. I love that she is not a princess but a tomboy who isn't afraid to kick some butt when needed. Tate is a man who isn't threatened by a strong female, realizes what a prize she is, and knows she's worth fighting for. I enjoyed this book immensely. KISS MY BOOTS is a great summer read.