Kissing Under The Mistletoe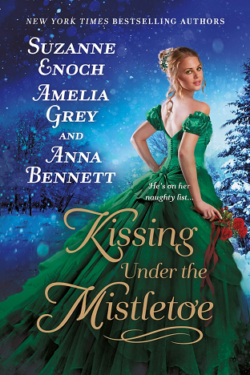 Release Date

September 28, 2021

Publisher

St. Martin's

ISBN/ASIN

9781250797445/‎B08R2KVRN3

Our Rating

Reviewed by

Michele Rioli
Our Review
KISSING UNDER THE MISTLETOE is a trio of lovely holiday stories by my favorite authors, Suzanne Enoch, Amelia Grey, and Anna Bennett.
The first story, Great Scot!, stars beautiful Jane Bansil who realistically knows that a romantic fairy-tale life is just that, a fairy-tale. She is a companion to Lady Aldriss in the rambunctious MacTaggert family. She's stuck in Scotland for Christmas, hoping she will have a wonderful holiday. She meets Brennan Andrews, a rugged, handsome man who is an architect and a cousin to the MacTaggerts. He is there to design plans for a new home. They are extremely attracted to one another. Shy, timid Jane decides whether to take a chance on romance or to live a life as a companion. Wonderfully romantic!
The second story, Christmas At Dewberry Hollow, stars Isabelle Reed a pretty lady who wants to remain at the inn with her mother and helping out others. So, no marriage plans for her. However, Isabelle accidentally shoots a guard of a prominent Duke. The Duke's grandson, Gate, is traveling with the Duke and is there to help find a beloved carving on a tree. When Gate and Isabelle meet, zing goes the strings of their heart! Isabelle is charmed by his constant attention and wonders about taking a chance at love again. This is a mischievous and lovably romantic tale.
The last story, My Mistletoe Beau, stars lovely Eva Tiding who wants only one thing, to retrieve her father's favorite pocket watch that was given to him by her deceased mother. He lost it in a gambling match to a rakish rogue, the Earl of Frostbough. She breaks into his home, only to get caught in the act! Jack strikes a deal with her, pose as his fiance to please his grandmother that he is finally settling down, in exchange for the watch. Only, Jack and Eva outwardly oppose each other but Cupid has other ideas. Will they fall in love in spite of their antagonism towards each other?
KISSING UNDER THE MISTLETOE is a lovely novella collection of handsome, macho men falling in love with smart, confident and beautiful women is a must read for the holidays! There is instantaneous attraction, magical settings, teasing and bickering galore, forgiveness, and characters risking everything for love. Each author puts their trademark spin on their story, flavoring the whole collection with oomph and charm. Absolutely adored this holiday collection! Put this holiday novella on your list. KISSING UNDER THE MISTLETOE is a treasure trove of titillating tales.