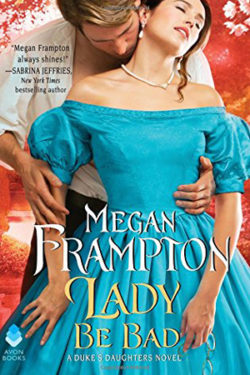 Author

Megan Frampton

Release Date

July 25, 2017

Publisher

Avon

ISBN/ASIN

9780062666628

Our Rating

Reviewed by

Vanessa E.
Our Review
Oh, the peril of being a dutiful daughter, especially when one's little sister has gone and run off with your dancing instructor. Now, to save her family's reputation, Lady Eleanor Howlett, oldest daughter of the Duke of Marymount, is prepared to marry Bennett Raybourn, Lord Carson, heir to the Marquis of Wheatley, to deflect the ton's gossip mongers and avoid any more hint of scandal attached to her family's name.
Lord Carson, however, is too busy with his own interests to pay attention to his soon-to-be betrothed and enlists the aid of his younger brother, Lord Alexander Raybourn, to learn more about Lady Eleanor and woo her in his stead. Except, what happens when the wooer-by-proxy starts to fall for his brother's intended? You know where this story is headed, and you do not want to miss a single chapter of LADY BE BAD by Megan Frampton. 
Wait until Lord Carson realizes he needs to start wooing Lady Eleanor himself. Lord Alexander has to make a choice to either follow his heart or do his duty. Will Lady Eleanor follow her list of how to be bad and surprise them all?
Ms. Frampton's characters easily have you rooting for them to have their happy ending and make you want to read more about them. Fortunately for the reader, this book is the first in her series called the Duke's Daughters, and this reader is eagerly anticipating the next novel in this collection. 
RJ RECOMMENDED READ