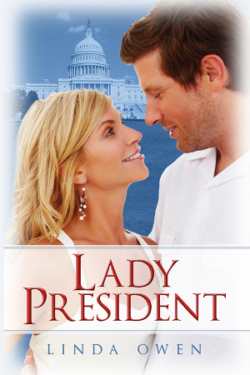 Author

Linda Owen

Release Date

December 19, 2014

Publisher

Book Baby

ISBN/ASIN

B00R8Q0NTC

Our Rating

Reviewed by

Chrissy
Our Review
Stephanie Franklin's term as the President of the United States has been far more complicated than she ever anticipated. Her long ago friendship with African dictator Sibaba and his current bomb threats are just the tip of the iceberg. Throw in assassination attempts, a cheating husband, a serious illness, political backstabbing, and her determination to keep her faith front and center in all her decision making and it's a wonder she can sleep at all. Fortunately, Stephanie has been wise enough to keep Adam, a trustworthy friend and advisor, by her side. She'll need his assistance and guidance as the rest of her world begins spiraling out of control – especially when the extent of her husband's betrayal begins to become glaringly obvious. 
Linda Owen's LADY PRESIDENT isn't your typical romance. The romance is almost an afterthought (though I admit the tension between the main characters was there all along).  I admired Stephanie for not just being able to hold the title of President of the United States, but for maintaining her calm, faith, and dignity with so much drama going on in her personal life, never mind all the political troubles taking place. I confess that I didn't think this was going to be "my kind of read," but I quickly got caught up in the storyline and was captivated by every twist and turn in the plot, right up to the end. I even cheered Stephanie's gutsy actions when it came to mixing a little payback with politics.
LADY PRESIDENT is an intriguing story that captivates readers with its political appeal and touches your heart with the emotional aspects. This is definitely a read I'd recommend.