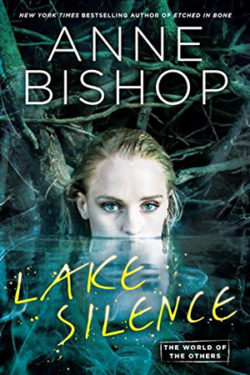 Author

Anne Bishop

Release Date

March 6, 2018

Publisher

Ace

ISBN/ASIN

978-0399587245

Our Rating

Reviewed by

SJ
Our Review
Urban fantasy at is finest and most complex. LAKE SILENCE by Anne Bishop returns readers to her world of the Others, where the Terra Indigene rule the world. Humans must follow the Others' laws or face their judgement. And there are those more deadly than the vampires and shapeshifters who interact with the humans. Like the elementals and Elders who don't like their borders crossed…
Vicki DeVine divorced her verbally abusive husband and received a rundown resort in Lake Silence as her settlement. The Jumble, as its known, has been a project for Vicki, and she's used most of her finances to get the resort up and running again.
She had a rough time with her ex, and she's been working hard to overcome his controlling ways. She's made friends with several locals in Sproing, the human settlement around Lake Silence. And those friends are both human and not-so-human.
But when her lodger, a shapeshifting Crowe, discovers a body, Vicki is thrown into a whirlwind of trouble, conspiracy, and danger. But as she does her best to manage deceitful humans, she'll find formidable allies in the Others who have come to like Vicki there, as a bridge between human and Other.
The world-building Bishop created is rich with detail and lush with description. The story is engrossing, the characters flawed, heroic, and villainous. There's no end to Bishop's imagination, and this addition to her Others' series is an outstanding novel you'll want to read over and over again. 
LAKE SILENCE can be read as a stand-alone, but fans will get a thrill out of continuing with the author's multilayered world and invest in the lives of ordinary characters who do the extraordinary. 
LAKE SILENCE is a must-read, an urban fantasy adventure I wish would never end.
Recommended Read!