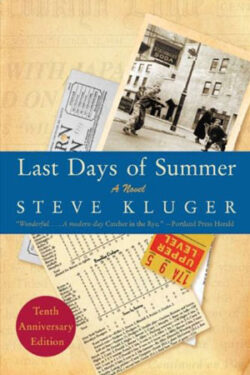 Author

Steve Kluger

Release Date

August 2, 2011

Publisher

Harper Collins

ISBN/ASIN

B004PYDNDS

Our Rating

Reviewed by

book lover
Our Review
LAST DAYS OF SUMMER by Steve Kluger is an easy read, and it has become my all-time favorite read.
Joey Margolis is a precocious twelve-year-old being raised by his mother and aunt in Brooklyn, New York at the start of World War II. After his father abandons him, Joey begins writing letters to twenty-four-year-old Charlie Banks, the all-star third baseman for the New York Giants.
After a rocky start, they become friends, and over the course of two years we see Charlie become Joey's father figure. He guides him through the landmines of first love, while at the same time, Charlie falls in love and gets married—with plenty of assistance from Joey. 
LAST DAYS OF SUMMER is written entirely in letters and loaded with humor, kindness, two really sweet romances, and a few tears. Charlie is a role model we all want for our children, and I stayed up late finishing this book!
Recommended Read