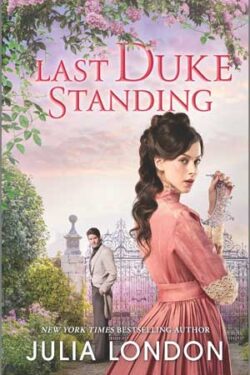 Author

Julia London

Release Date

February 22, 2022

Publisher

HQN

ISBN/ASIN

9781335639868

Our Rating

Reviewed by

Jo
Our Review
LAST DUKE STANDING is the first book in the A ROYAL MATCH series. It's a historical romance set in Wesloria and London. The book is a little slow when I started, but once I got into it, it has a nice flow.
Crown Princess Justine is sent to London where she will meet with Queen Victoria as well as a matchmaker. Princess Justine must find a husband soon since her father, the king, is very ill. She'll become the queen of Wesloria upon his death.
William, a Scot, is tasked by her prime minister and his father to help find her a husband. Justine isn't keen on the idea but she and William do have chemistry and keep getting drawn together, especially when he keeps nixing her matches. I laughed out loud a few times since the matches were so not worthy of being the prince consort, and many did not realize they would not be king when Justine rose to power.  
The Scottish and Weslorian words that are sprinkled throughout give the proper flavor to the story. Princess Justine's relationship with her sister is lovely and funny, though their chaperones are hard to like. The book is filled with beautiful and vivid descriptions of the culture and countryside. There is some closure with the epilogue that takes place one month later back in Wesloria. And the love story is well-told with rich characters.
Ms. London is an author whose books I've enjoyed, whether contemporary romances or historical. I look forward to reading more of her books.