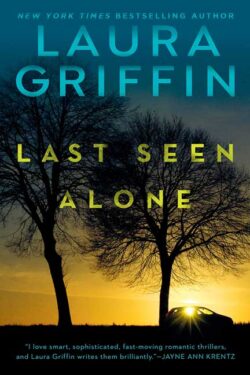 Author

Laura Griffin

Release Date

September 28, 2021

Publisher

Berkley

ISBN/ASIN

9780593197363

Our Rating

Reviewed by

SJ
Our Review
NYT bestseller Laura Griffin returns with a thrilling suspense about a missing woman, an empty, bloody vehicle in the middle of nowhere, and a detective running out of time.
Leigh Larson is a tough attorney who fights sexual harassment and online abuse, having once survived her own trauma. Brandon Reynolds is an Austin homicide detective investigating an abandoned car (and a pool of blood) that belong to a woman Leigh once helped. But Leigh has little recollection of the missing woman, who hired her briefly just before she disappeared. 
The race is on to find out where Leigh's client went, if she's even still alive, and if not, who might have wanted her dead. Then Leigh is attacked, and Brandon's gettting more involved with the pretty lawyer than he should be.
The tension between Brandon and Leigh is spot-on, but the romance isn't as intense or present as it was in Griffin's previous novels. The case comes together a lot easier than expected, but the book still entertains. I didn't put it down until I finished!
The author has a talent for making her police procedurals feel so real, giving just enough detail to feel believable, yet not over-inundating with facts and extraneous detail. The characters are fully fleshed out, though the chemistry between the lead pair could have been a little hotter. But the mystery of the missing woman is intriguing all on its own.
If you want an exciting suspense by a master of the genre, check out Laura Griffin's LAST SEEN ALONE.