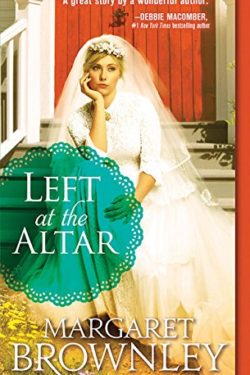 Author

Margaret Brownley

Release Date

November 1, 2016

Publisher

Sourcebooks Casablanca

ISBN/ASIN

1492608130

Our Rating

Reviewed by

Dottie
Our Review
In the 1800's clocks were set by jewelers who determined the correct time. But Two-Time, Texas, has two jewelers whose time differs by 40 minutes. This is a real problem when one must catch a train or be somewhere at a specific time. It is thought that the matter has been solved when a child of each jeweler, childhood friends Meg Lockwood and Tommy, decide to wed. For a wedding present the two families will settle the time issue once and for all. But when Tommy arrives at the church late and calls off the wedding so he can travel to the islands as he has longed to do, hostilities increase. Meg becomes the joke of the town and her father sues Tommy and his family for breach of promise. Although Meg is against the suit, wanting only to get on with her life, her father is not about to compromise.
Faced with the ruin of his family should Meg's family win the lawsuit, Tommy hires the new lawyer in town, Grant Garrison, primarily because no other lawyer in the small town will take the case. Grant is an ethical lawyer, as well as a very likeable person, who came to town to see his sister only to find she had already died. While visiting her grave, he witnessed the breakup scene at the church, to Meg's embarrassment. Remembering that distraught bride standing outside the church, Grant is reluctant to take the case. However, Tommy is entitled to representation.
As the trial proceeds, Grant finds himself growing increasingly attracted to Meg. On New Year's Day, they share a kiss that leaves both shaken and gives Grant hope of a future with her. But then, to Grant's surprise, during the trial events take a strange turn, which could destroy any chance Grant and Meg have for a future together. Will Meg do what others want her to do, or will she listen to what her own heart is trying to tell her?
A madcap tale, LEFT AT THE ALTAR, the first book in bestselling author Margaret Brownley's A MATCH MADE IN TEXAS series, is a delightfully humorous romance set in the old West. This novel will bring a smile to your face. There is definite chemistry between Meg and Grant. I enjoyed the interaction between them, even though her father had no use for him. But I think that's mainly because he doesn't care much for lawyers. Meg and her family are put through quite a bit as the story unfolds and I like the way that they all stick together, relying on each other, as they try to resolve their problems. Although Meg and her two sisters each have their own distinct personalities and peculiarities, the closeness between them is touching.
Family dynamics, hot tempers, a feuding town that comes together during tragedy, the clock battle, some surprising plot twists, a jilted bride, loyalty, romance, second chances, laughter and loads of love make LEFT AT THE ALTAR a memorable story. The author also includes some interesting insights on the time-setting issue, as well as the breach of promise lawsuits from that day. I look forward to reading more about Meg's sisters, especially Amanda, who is featured in the next installment, A MATCH MADE IN TEXAS, which is due to release in June 2017. If you enjoy romance set in the old West and having your funny bone tickled, LEFT AT THE ALTAR is the book for you!