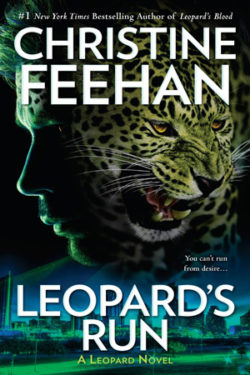 Author

Christine Feehan

Release Date

November 6, 2018

Publisher

Berkley

ISBN/ASIN

B079KSFP97

Our Rating

Reviewed by

BPoston
Our Review
Ashe Bronte is in trouble. She has come to San Antonio hoping her friend Evangeline and Evangeline's husband can help her. Bad people are after her, but she is hoping she can stop running and hide for a while until she can figure out her next move. Ashe is a leopard shifter but was raised off the grid by her parents, so she doesn't know much about what being a shifter entails. Her parents, while they loved her, did not share much of their history with her. Ashe is at a loss as to what she needs to do to protect herself and her inner cat.
Timur Amurov was raised in a world filled with crime and violence. His father tortured him and his brother, Fyodor, until his death. Fyodor saved Timur and became head of their lair. His brother is constantly under threat from their enemies, and Timur has become head of their security and vowed to do whatever is necessary to keep Fyodor and those within their lair safe. His inner leopard is constantly wanting to strike out and kill. It is all Timur can do to keep him under control. He has no peace and believes this is how he is meant to live his life.
When Timur discovers Ashe working at his sister-in-law's bakery without his knowledge or permission (he is the head of security), he's furious. He believes her to be an assassin. However, his leopard immediately lets him know she and her cat belong to them. All Timur knows is that Ashe has secrets. He needs to know what she is keeping from him and, if she is an assassin, he'll end her life regardless of the pain it brings him.
Christine Feehan is the master of paranormal suspense books. Like the other books in this series, LEOPARD'S RUN is intense, containing non-stop action and adventure paired with sizzling and seductive loving. The characters are so rich and dark, the reader is compelled to find out if they can survive this harsh world they live in. This is an awesome read!
Recommended Read