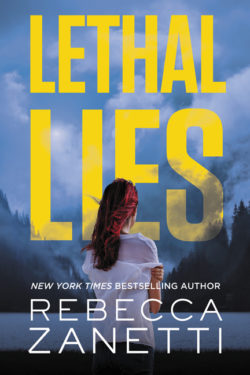 Author

Rebecca Zanetti

Release Date

May 16, 2017

Publisher

Forever

ISBN/ASIN

978-1455594290

Our Rating

Reviewed by

B Poston
Our Review
LETHAL LIES by Rebecca Zanetti was an exciting read.  
Anya Best is a criminal psychologist and has been working with her sister, Loretta, by profiling a serial killer known as the Copper Killer. Loretta is one of the police detectives assigned to the case. While following a lead, Loretta disappears.
Heath Jones is a private investigator with the Lost Bastards Investigative Agency. He consulted with Loretta on the Copper Killer case and has been trying to get in touch with her without luck. He finally reaches Anya, only to be told her sister is working undercover. Heath knows this to be a lie. Loretta was abducted by the Copper Killer, and he fears for her life. He tells Anya she is being lied to and requests Loretta's personal files to review.
Heath believes her files contain information that might lead to him finding her. The Copper Killer only keeps his victims for a short time before killing them. Heath knows the clock is ticking and is desperate to see if he can figure out what Loretta has discovered before time runs out.
This starts the roller coaster ride you take reading LETHAL LIES. The action begins immediately, and you are drawn into the story. I couldn't put this book down until I reached the end. This is the second book in the Blood Brothers Series. It can be read a stand-alone, but I think reading the first took, DEADLY SILENCE, helps fully explain the back story of Heath and his brothers and how they became private investigators and the secrets they are hiding.
Rebecca Zanetti is a talented writer who is able to bring danger, suspense, intrigue, and hot lovin' in an action-filled package  I can't wait to read the final book of this series.
A RECOMMENDED READ