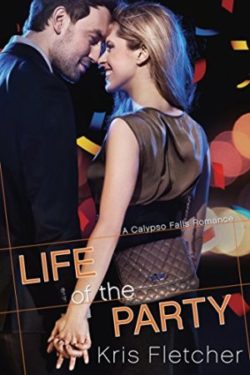 Author

Kris Fletcher

Release Date

January 17, 2017

Publisher

Berkley

ISBN/ASIN

9781101989227

Our Rating

Reviewed by

Chrissy Dionne
Our Review
Jenna Elias is determined to build a future outside of Calypso Falls. Her failed marriage, disfiguring accident, and her father's corrupt activities have made it all but impossible for her to do anything without second guessing herself.  She spent her teenage and college years partying so now, at the age of 30, she's working at her sister's coffee shop and taking college courses to prepare for a career that will give her the fresh start she desperately needs.   The last thing she needs is to become involved in anything that could potentially put her life on public display. 
It's almost impossible to resist Cole Morrissey, a local lawyer running for mayor. He's good looking, nice, honest, and just an all-around good guy.  When he suggests Jenna join his campaign she initially decides against it, but the experience would look good on her resume so she agrees despite the risk of public exposure.  Originally Cole didn't know who Jenna was – he just knows she's witty, fun, and has a zest for life he finds refreshing … plus she's super cute.   He does find out about her parentage before she begins working with his campaign team but that doesn't sway him.  After all, why should she have to pay for the sins of her father? 
Unfortunately politics rarely play fair and dirty laundry is often the name of the game. When Jenna's father's released from prison and returns to Calypso Falls intent on making amends with his daughters it complicates everything.  Cole and Jenna have more than a political relationship; they're enjoying a mutually satisfying sexual relationship as well.  There are no illusions about a future between them, but will they be able to keep it all fun and games or will they decide that sometimes you have to take chances and go after what you truly want?
Kris Fletcher captured my attention with THE BRIDESMAID AND THE BACHELOR but she cemented my fascination with Calypso Falls and the Elias sisters with the second title in this series, LIFE OF THE PARTY. What a fun and emotionally charged story!  Jenna's family, with the exception of the dad, is delightfully loving, supportive and funny.  They're a close-knit group that 'tell it like it is' but allow each other to live their lives as they see fit.  I really loved Jenna's witty comments, via text and in person.  She seems to make Cole a better man.  He was great before, but she makes him smile and he doesn't take himself so seriously when they're together. 
One of the things I really loved about this story is how Ms. Fletcher delves into the relationship between Jenna and her father. Yes, she has good reason to despise the man but she's allowing her past to determine her future and hurting herself in the process.  It's an emotionally trying situation that I found fascinating.   I'll definitely be on the lookout for future titles in the CALYPSO FALLS series (but there's nothing on Ms. Fletcher's website yet about other titles in the series.
CALYPSO FALLS series:
THE BRIDESMAID AND THE BACHELOR
LIFE OF THE PARTY