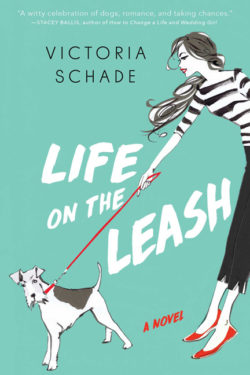 Author

Victoria Schade

Release Date

September 18, 2018

Publisher

Gallery Books

ISBN/ASIN

978-1501191671

Our Rating

Reviewed by

B. Nakia Garner
Our Review
In Victoria Schade's LIFE ON THE LEASH, Cora Bellamy left a corporate job to pursue her passion—dog training. Now a company owner, Cora's life revolves around teaching humans to communicate with their pets.
Her clients range from the working woman who brings her dog to the office every day, to the erratic hoarder who spends more time shopping than catering to her neglected dog.
In the midst of her clients, Cora is also in a slump when it comes to her love life. It's been over a year since her fiancé dumped her, but he is brought back into her life as the new star of a reality show. She is also wildly attracted to Charlie Gill, a client who lives with his longtime girlfriend. And the assistant of one of her other clients, Eli Crawford, has also expressed interest in the quirky Cora.
Cora juggles her tumultuous emotions and a desire to bring her dog training techniques to the small screen with her lovable dog, Fritz, and her best friend, Maggie, by her side.
LIFE ON THE LEASH, a quirky and fun novel, is a lighthearted tale of lovable characters with an underlying romantic tone that never really takes center stage.
But that's a good thing.
Had author Victoria Schade chosen to focus solely on the main character's interactions with the opposite sex, this story would have bordered on cliché. Instead, readers are treated to a strong female lead who is quietly confident with a big heart.
The story flows at a modest pace. There are just enough characters to frame the personality aspects of the main character but not too many characters that it's hard to remember who everyone is.
This is a solid read, one that can be finished in a couple of days and will leave you satisfied.