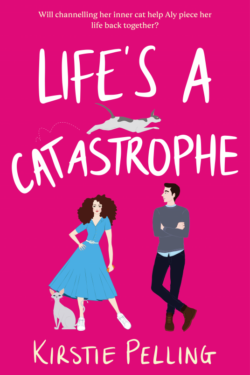 Author

Kirstie Pelling

Release Date

March 1, 2022

Publisher

Embla Books

ISBN/ASIN

B09KN7MRR1

Our Rating

Reviewed by

Michele Rioli
Our Review
LIFE'S A CATASTROPHE is brisk, sassy, smart-alecky, and down right adorable! It stars a shy, pretty lady, Aly Meadows, who is a social media infleuncer. She has two cats that are the stars of her channel. Aly has developed quite an enormous fan base. Although, her life hit the brakes, with a testy eviction notice, little money, and a ramshackle life. Something's gotta change and soon! But what?
Enter hunkalicious Rick Harvard, head honcho of Glimmer talent agency. He offers Aly an enticing job offer at his company. Only Aly has to decide whether she should take a big step by going out of her comfort zone. Life behind the lens is her life. Going public is scary! Little by little she gains confidence, thinking like a cat, owning the room. Does Aly go global? Will she also find love along the way?
If you love a good laugh, along with cutesy cats, then LIFE'S A CATASTROPHE is right up your alley! The story moves at a rattling pace, with lot's of quirky characters, nutty scenarios, problems with men, and lot's more. Ms. Pelling's debut novel is a spectacular story that will warm your heart! It blends likable and not so likable characters, gossipy life, spicy situations into one entertaining read. LIFE'S A CATASTROPHE is a meowing good time!