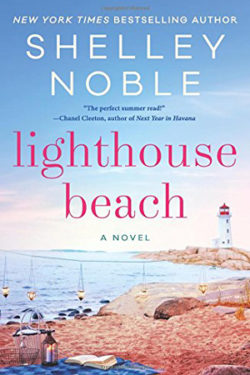 Author

Shelley Noble

Release Date

May 29, 2018

Publisher

William Morrow Paperbacks

ISBN/ASIN

9780062675965

Our Rating

Reviewed by

Jo
Our Review
LIGHTHOUSE BEACH is a nice women's fiction that had a small town feel and coziness about it. Friendships are front and center! When Lillo is invited to the wedding of an old friend from camp, whom she hasn't seen in years, she wonders why she even accepted. When she gets to the fancy venue, she feels even more out of place. Lillio meets up with the bride, Jess, and two of Jess's college friends whom she's never met, Diana and Alli. 
Things don't go as planned, and the next thing they know they're all headed to Lighthouse Beach in the borrowed van that Lillo drove. The story only gets more interesting after that.
Being a runaway bride isn't all roses. Jess's father doesn't take the broken engagement and the cancellation of the wedding in stride at all. He takes strong-arm measures to get what he wants, but will it work?
Jess and her friends do a lot of bonding and talking, and although Lillo likes her privacy and her small cottage, she offers them hospitality for at least a girl's weekend away.  Things last longer than a weekend, and we get to know them all. The characters had a depth to them, showing us the reasons why their lives are playing out like they are. 
Lillo's friend, Mac, was the lighthouse keeper when it was working. But once it was shut down, she has a place to live out the rest of her days. The lighthouse, the gift shop, and the beach play a central role both in Mac's life and the town's. There are motorcyclists who come to town every so often to work and to help the townspeople, who are all struggling along with the town. Two are doctors who work at the free clinic that's only open when they're there.
There was a nice flow to the story. We get to know the town and the townspeople little by little. We learn some of the secrets that the characters are hiding from the others. The descriptions of the town, the get-togethers, and group dinners made me feel like I was there. The inclusion of Lillo's friends in the activities was a nice touch and let us see how much the three of them wanted to help and be there for the town.  Friendship played an important role and we see how much they mean to each other.
There was some closure along with a few surprises, but the book ended a little too abruptly for me. An epilogue would have been nice. I would love to revisit Lighthouse Beach and see how everyone's lives panned out, especially through some sort of reunion. It was hard to know if there would be any happily-ever-afters!
Noble is a new-to-me author, and I look forward to reading more of her books. LIGHTHOUSE BEACH was reminiscent of books written by Jill Shalvis, Debbie Macomber, and Susan Mallery.