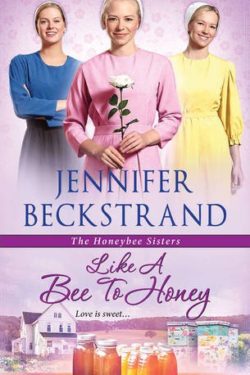 Author

Jennifer Beckstrand

Release Date

August 30, 2016

Publisher

Zebra

ISBN/ASIN

1420140248

Our Rating

Reviewed by

Dottie
Our Review
In a Wisconsin Amish community, the three Christner girls live with their aunt and are affectionately dubbed THE HONEYBEE SISTERS because they make their living with the hives of honeybees on their property, extracting the honey and selling it.
As the youngest Christner girl, Rose's past has left her afraid of everything. Her sisters are always protecting her, trying to keep her from getting hurt, but Rose wants to be able to stand on her own two feet. Still, she blames herself for her parents' deaths, even though she was only five at the time. She figures she will only end up disappointing everyone, including those she loves the most. A quiet young woman, Rose enjoys painting, baking and working with her two sisters and their aunt in harvesting the honey from their beehives. She has a deep-seated love for creatures of all types and even the bees seem attuned to her presence. Unlike the rest of her family, Rose needs to wear only minimal protection while working with the bees without getting stung. She also manages to keep her aunt's unruly cats in line.
Josiah has loved Rose for years. He knows about her fears and tries to do whatever she wants, first and foremost. A bit shy himself, Josiah is trying to take it very slow with Rose. Above all, he wants to spend his life with her. Like Rose and her sisters, Josiah is an orphan. He lives by himself, taking care of the farm on his own with just the company of his dog that he named after Rose. His only relative is his sister who is married and has children of her own. Josiah, along with his two friends who are engaged to Rose's sisters, have joined forces in trying to ascertain the identity of the vandals who are sabotaging the girls' farm. When the latest message makes it clear that the culprits are after Rose, Josiah becomes desperate to solve the mystery before something dire happens to her. Is someone from Rose's past back to haunt her, or is it someone local who is trying to run the girls and their aunt out of the community? Can Josiah and his friends stop the vandals before it is too late?
A heartwarming tale, LIKE A BEE TO HONEY, the third book in bestselling author Jennifer Beckstrand's THE HONEYBEE SISTERS series, is an emotion-packed, uplifting, contemporary romance set in an Amish background. This story is sure to touch the hearts of its readers and even make them laugh a time or two. The only confusing part for me was understanding what makes Rose so afraid of everything, but as the story unfolds, it becomes more fathomable. The interaction between Rose and Josiah is sweet and filled with love. He is very patient with her throughout the story.
I enjoyed reading this story with its innocence, the loyalty and love among Rose and her family, as well as the three men who love the Christner girls. Although this story could be read as a standalone, I suggest reading the entire trilogy to gain insight and additional entertainment, beginning with SWEET AS HONEY, followed by A BEE IN HER BONNET and then LIKE A BEE TO HONEY. Each book is a joy and I relish my visits to Jennifer Beckstrand's Amish world. I can't wait to see what she comes up with next. Definitely recommended for those who love Amish or Christian romance!