Lilian and the Irresistible Duke (Secrets of a Victorian Household)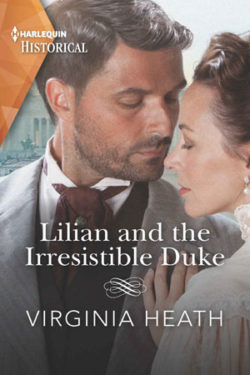 Author

Virginia Heath

Release Date

February 1, 2020

Publisher

Harlequin HIstorical

ISBN/ASIN

9781488063756

Our Rating

Reviewed by

Jo
Our Review
Virginia Heath is one of my favorite authors of historical romances and LILIAN AND THE IRRESISTIBLE DUKE did not disappoint. This is the fourth and last book in the SECRETS OF A VICTORIAN HOUSEHOLD series and the only one written by Ms. Heath. The others are written by three different authors and are about Lilian's three children. I have not read the first three books in the series but have added them to my TBR pile.
Set in the mid-1800's, the story begins in London, but the majority of the story is set in Rome, a place near and dear to my heart. I loved the descriptions of the various sites that transported me directly there.
Lilian has been a widow for ten years, and when she agrees to go to Rome with her cousin at her children's insistence, little does she expect to find Pietro, who she's been thinking of since their kiss during a carriage ride in London. When they meet up in his home (where she'll be staying with her cousin and his sister,) their thoughts seem to be fixated on that moment. 
He doesn't believe in marriage or love due to his arranged marriage when he was young.  Lilian's husband was her soul mate, and she can't imagine loving anyone else as much as she loved him.
I enjoyed getting to know the characters and seeing how good Lilian was for Pietro. There is a depth to the characters, and we get to see them in different situations and interacting with others. I loved the romance and the peeling back of the character's layers, exposing their grief, pain, and ultimately love.
There are ups and downs to the story, as there is sometimes disillusionment and even anger on Lilian's part. Lilian's return to England is bittersweet, but there's more romance to come. I loved getting to know her children and their spouses, albeit only slightly. The epilogue gave me the closure I look for and a better-than-anticipated happily ever after.  I can't wait to see what Ms. Heath pens next.