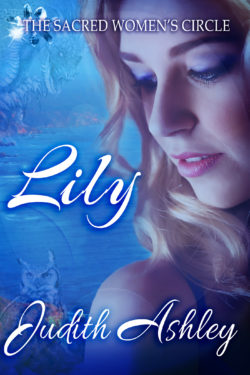 Author

Judith Ashley

Release Date

September 27, 2014

Publisher

Windtree Press

ISBN/ASIN

978-1-9400-6451-2

Our Rating

Reviewed by

Dianamcc
Our Review
What a great first novel of "The Sacred Women's Circle" series! Judith Ashley's LILY caught my attention in the first chapter and held it tight until the last page. I found the characters interesting and well-developed. It was nice seeing the supportive bond among the group of women in Lily's sacred circle, and to realize how that loving, spiritual bond helped Lily grow through the difficult challenges of old fears and new. I love the idea of a sacred circle for support.
Lily Hughes is a divorced mother raising a teenage son. She had left child protection services after a horrifying encounter with a deranged mother whose children Lily had to rescue from the home. The mother threatens Lily and her family. Lily's son was quite young then, and Lily decided to move to a new town, and change professions.
Charlie, Lily's son, now a senior in high school asks to live with his father out of state. Lily wrestles with her emotions, and her decision. She turns to her sacred circle of friends. They support her in her decision to let Charlie live with his dad and knowing how hard this decision is for her to make. His dad had been abusive to Lily during their short marriage.
Lily develops a close friendship with one of her clients, a feisty senior named Eleanor who lives with her son, well known architect Jackson Montgomery. Jackson and Lily butt heads over the care Eleanor receives, and who knows best for his Mother. Eleanor plays match-maker hoping that Lily will be the daughter-in-law she's always wanted.
As they both care for Eleanor they are forced to work closely together. When a past client threatens Lily, Jackson is there to protect her. The sexual tension grows slowly, but once they realize they belong together there is no stopping their emotional and physical love.
Jackson finds Lily fascinating. He admires her commitment to others and finds her sensitivity to the energy of the land intriguing.
Lily finds her attraction to Jackson terrifying. Turning to her sacred women's circle Lily figures out how to trust her heart, and receive the love she so deserves.
A great read and plenty of romance, with some spice thrown in! There is one scene in the book that brought tears to my eyes. I hope you enjoy it as much as I did.
I can't wait to start reading ELIZABETH, the next book in "The Sacred Women's Circle" series.