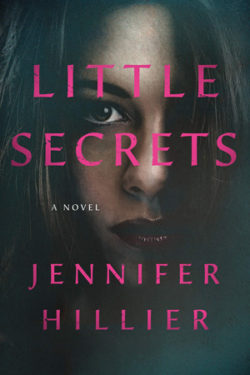 Author

Jennifer Hillier

Release Date

April 21, 2020

Publisher

St. Martin's

ISBN/ASIN

9781250154224

Our Rating

Reviewed by

SJ
Our Review
All it takes are a few seconds of inattention to completely change one's life. That's a hard fact Marin learns in LITTLE SECRETS, when her perfect life is shattered by the kidnapping of her little boy. This thriller had me glued to the pages from beginning to end.
Jennifer Hillier writes engrossing novels with building tension for complicated characters who embark on dark journeys. In LITTLE SECRETS, it's Marin's journey to take. And it's one heck of a twisted, engrossing tale.
A year after the kidnapping, while trying to save her marriage and deal with grief and self-blame, Marin still has an investigator on the (cold) trail of her missing son. She's in a support group that does as much harm to her state of mind as help, and her distance from her husband speaks volumes. No matter that she's a successful salon owner still making money. Nothing much matters to her but finding her son.
But when the investigator learns of her husband's infidelity, something in Marin…snaps. She lost her son, but she won't lose her husband so easily. And so begins a wild ride with twists I didn't see coming.
The characters are flawed and heroic and dark, and so much fun! I couldn't stop reading, especially when certain truths are revealed. The ending in particular was one I both wanted and didn't want to see happen, yet couldn't stop reading about all the same. A whopper that totally sealed the deal, earning this psychological thriller a Recommended Read.
Though this is not a romance, there are romantic elements in it. And the picture of an outwardly perfect marriage showing a couple dealing with loss and guilt was so well done.
A Recommended Read