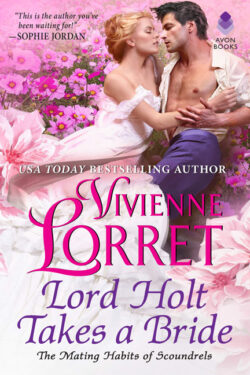 Author

Vivienne Lorret

Release Date

April 21, 2020

Publisher

Avon

ISBN/ASIN

978-0-06-297659-8

Our Rating

Reviewed by

Dianamcc
Our Review
LORD HOLT TAKES A BRIDE by Vivienne Lorret is the first in the series The Mating Habits of Scoundrels.
Winnifred Humphries is about to be married. A suitor is chosen by her parents, a despicable man who has given his heart to his mistress and told Winnifred that after the wedding night he will not be coming to her bed. He's marrying her for her dowry.
Winnifred is resourceful and determined to marry for love. At the church, she makes a run for it into the waiting coach of Lord Asher Holt. He is passed out but awakens in time to save the maiden from marriage.
Thus begins a wonderful story. Winnifred was expecting her friend's cousin to be waiting with the coach. Upon learning that Asher is not the cousin, she claims he's kidnapped her, and they have an argument outside the coach in the countryside. The coachman ditches them, and they are forced to walk!
This is a really different Regency. The author gave the reader a heroine with a low self-esteem, as her marriage proposals have all focused on her large dowry. She is not a slender beauty; she's a little on the plus side. With the encouragement of Asher, Winnifred regains her self-esteem and finds their friendship to be the beginning of love.
LORD HOLT TAKES A BRIDE is a lovely, fun story with enough mystery and drama to keep you reading until the very last page!